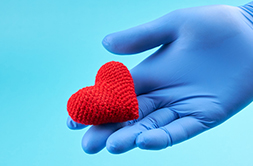 As the COVID-19 outbreak continues to spread, there is a constant need for help to keep patients and staff safe, investigate treatment options, and express appreciation to those on the front lines. Here are some ways you can help.
Volunteer at a Vaccination Site
Providing COVID-19 vaccinations to the residents of our region is one of the most extensive public health programs in American history. You can help assist Cooper in this important effort by volunteering for any of a number of clinical and non-clinical roles.
Please fill out the form here and someone will contact you with more information.
Donate Supplies
Many industries outside of health care use personal protective equipment and Cooper is seeking assistance from companies that have an excess supply of the following
N95 respirator masks
Disposable surgical masks
Surgical gowns
Gloves
Eye shields
Learn more here.
Supply a Meal
If you or your business would like to say "Thank You" by donating individually wrapped meals and snacks to Cooper's health care workers, please email The Cooper Foundation to make arrangements.
Donate Funds
Donations to the COVID-19 Assistance Fund will be used to immediately purchase necessary medical equipment and supplies for our physicians, nurses, medical students, and staff on the front line treating Cooper patients.
To make a donation, click here.
Send a Note of Thanks
Send a message of thanks and encouragement to the Cooper nurses, doctors, residents, medical students, EMTs, and staff who are working around the clock to keep our community safe. We'll share your notes with our staff and through our social media channels. Email your message to COVID19Assistance@cooperhealth.edu.
Donate Plasma 
If you have had COVID-19 and are now fully recovered, you may be eligible to donate plasma to benefit patients who are currently undergoing treatment. Individuals interested in making plasma donations should contact the American Red Cross online or call 1.800.RED.CROSS.The site includes required criteria for making donations.
Sew Masks
Cooper currently has an adequate supply of masks for its health care workers, however they remain in short supply nationwide due to COVID-19.
Cooper is looking to be proactive in addressing the possibility of future supply challenges and is calling on all sewing volunteers to help make masks for use by patients and potentially by staff.
Learn more here about sewing and donating masks (and the pattern we need you to use).