New Jersey Monthly's Top Doctors 2016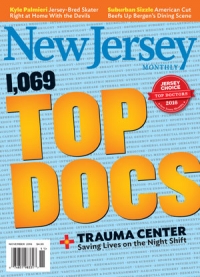 Congratulations to the members of the Cooper University Medical Staff, which including University Physicians and community physicians with privileges, for their selection as Top Doctors in the November 2016 issue of New Jersey Monthly. 
To compile this list, New Jersey Monthly commissioned an independent survey by Leflein Associates, a research firm in Ringwood, NJ, who mailed a questionnaire to every doctor licensed in New Jersey for at least five years. Each of the doctors was asked to vote for physicians they would chose to treat them or a family member.
Cooper University Physicians - New Jersey Monthly's Top Doctors 2016
Teaching Affiliate Staff / Community Physicians
Cooper Medical Staff / Community Physicians
*Calculations in the introduction for this page are based upon the number of Cooper medical staff members included in the referenced issue on the date of publication and are not necessarily reflected in the listings contained on this page, as only current medical staff members are displayed.