Cooper Neurological Institute has one of the most comprehensive epilepsy programs in South Jersey. We specialize in the evaluation and medical and surgical treatment of epilepsy in children and adults. Our goal is to help you or your loved one manage this disease in order to live life to the fullest.
The Cooper Epilepsy Center emphasizes the long-term management of difficult seizure cases using the latest in pharmacological and non-pharmacological strategies. We provide education, psychosocial counseling, stress management, and social services.
Multidisciplinary Approach to Care
Our team of dedicated physicians, health care professionals, and support staff work together with you and your primary care physician to maximize your treatments. Our team includes neurologists, nurse practitioners, EEG technicians, neuropsychologists, psychiatrists, and social workers.
Advanced Diagnosis, Treatment, and Care
At the Cooper Epilepsy Center, our team diagnoses patients with all forms of epilepsy and serves as a referral source for primary care physicians throughout South Jersey. We deliver highly specialized care for adults and children in state-of-the-art facilities for evaluating patients and for performing epilepsy surgery. Our team has access to the most advanced therapeutic options and participates in clinical trials to help pave the way for future therapies.
Surgical Treatment of Epilepsy
If your seizures are not easily controlled with medications, the Cooper Epilepsy Center offers surgical treatment options. The majority of patients with epilepsy do not require surgery, but those with refractory seizures can be evaluated by our team for epilepsy surgery.
National Association of Epilepsy Centers Accreditation
The Cooper Epilepsy Center is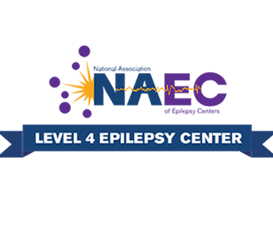 accredited by the NAEC as a level 4 epilepsy center. According to the NAEC, level 4 centers provide the most complex, intensive neurodiagnostic monitoring, as well as advanced medical, neuropsychological, and psychosocial treatment. Level 4 centers also offer a complete evaluation for epilepsy surgery, including intracranial electrodes and a broad range of surgical procedures for epilepsy.
For an appointment with a Cooper epilepsy specialist, please call 855.30.NEURO (855.306.3876).