There are nurses. And then there are Cooper nurses.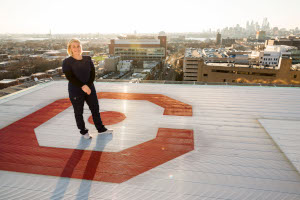 A Cooper nurse is ready to learn, ready to teach, and above all – ready first.
Working at the region's leading academic health system and busiest trauma center, Cooper nurses provide the highest level of compassionate and comprehensive care to our patients – many of whom are critically injured and ill. Cooper nurses are committed to excellence and dedicated to serving our patients.
Cooper nurses have the opportunity to explore, develop clinical skills, and grow professionally in both outpatient and inpatient settings. Cooper has a vast geographic footprint including urban and suburban locations offering a range of experience. In addition, professional development can be explored in many specialty areas including critical care, cardiology, emergency medicine, neurosciences and women's and children's health. 
Formal leadership, clinical education and specialty nursing roles such as wound care nursing and advanced practice provider roles are fostered through clinical education and professional development opportunities.
What Makes Cooper Nurses Different
Cooper nurses are supported from their time as new-to-practice nurses through continuing education and professional development. Here are some of the ways our Cooper nurses bring their excellence to our patients and team.
Leadership and Meaningful Recognition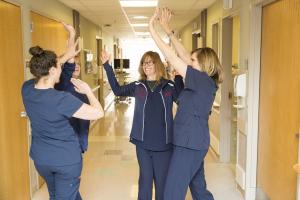 Cooper's nursing team is proud to recognize nurses at all levels of experience who bring a compassionate, evidence-based approach to patient care. Our team includes RNs and APNs practicing to the fullest extent of their license, and we continue to recruit nurses with advanced degrees as our leaders and educators.
Cooper nurses are recognized throughout the year during National Nurses Week, the Annual Nurse Excellence Awards, the DAISY Award program, the Clinical Ladder Program, and with The Edwin and Laura Davis Memorial Nursing Scholarship.
Education and Training
Cooper uses a Unit-Based Clinical Educator Model. We have 14 unit-based clinical nurse educators who support all inpatient units: Behavioral Health, Critical Care, Emergency, Maternal Child Health, Medical/Surgical, Pediatrics, Perioperative, Procedural Areas, and Trauma. We also have two non-unit based clinical nurse educators and one MD Anderson Cancer Center at Cooper-based educator, all of whom are master's-prepared nurses with experience in their specialty.
New-to-practice nurses are supported through our RN Residency Program. We have academic affiliations with 14 area nursing programs: Drexel University, Holy Family University, Immaculata University, Jefferson School of Nursing, LaSalle University, Penn School of Nursing, Rowan University, Rutgers University, Temple University, Thomas Edison State University, Walden University, Widener University, and Wilmington University. 
Research and Innovation
Cooper Bridges is a scholarly, peer-reviewed journal for Cooper nurses by Cooper nurses. It is published twice each year and offers nurses an opportunity to publish on a variety of clinically and professionally relevant topics.
Career Opportunities at Cooper
At Cooper University Health Care, our commitment to providing extraordinary health care begins with our team. To find current opportunities for nursing at Cooper, please visit jobs.cooperhealth.org.