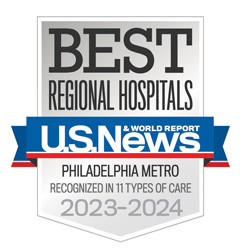 More than 7 million people in the United States have valvular heart disease. Advances in diagnosis and treatment have revolutionized the care of heart valve disease at leading centers across the country, centers like the Cooper and Inspira Cardiac Care Heart Valve Center, a center of excellence in the Delaware Valley for the treatment of heart valve disease.
Dedicated to comprehensive, state-of-the-art care, the Cooper and Inspira Cardiac Care Valve Center offers patients access to the most advanced care in the region for heart valve defects and disease, including:
aortic valve stenosis and regurgitation.
mitral valve prolapse, stenosis and regurgitation.
pulmonary valve disease. 
tricuspid valve disease.
Designed to provide a one-time consultation, a visit to the Cooper and Inspira Cardiac Care Heart Valve Center provides access to the multi-disciplinary team of cardiothoracic surgeons, interventional cardiologists, and physician assistants.
Revolutionary Care for Aortic Valve Disease Now Available
Cooper and Inspira Cardiac Care has been selected as one of the 50 initial sites in  the United States to implant a groundbreaking cardiovascular technology, the Edwards Sapien Percutaneous Heart Valve. This FDA-approved technology offers a treatment option for patients unable to undergo valve surgery and is expected to transform the treatment of aortic stenosis and aortic valve disease. Cardiac Partners is the only site in southern New Jersey that is offering this innovative therapy. The Sapien valve will be one of the advanced therapeutic options available at the new comprehensive, multi-disciplinary Cooper and Inspira Cardiac Care Heart Valve Center.
The innovative transcatheter or percutaneous approach will provide a proven valve repair treatment option for this patient population.  Results from the acclaimed international  PARTNER trial demonstrated an overall decrease in mortality of 20% in the first year for patients undergoing transcatheter valve treatment.
Deployment of the ground-breaking percutaneous valve will be performed in the Cooper University Hospital's state-of-the-art hybrid operating room. The $3 million suite combines  advanced imaging technology and facilities that allow the multi-disciplinary team of cardiac surgeons, interventional cardiologists, and cardiologists specializing in echocardiographic interpretation to perform the delicate implantation procedure.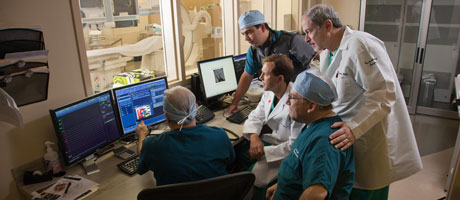 Minimally Invasive Valve Experts
The Sapien Percutaneous Heart Valve will be only one of the options in the valve repair and replacement treatment arsenal at the Cooper and Inspira Cardiac Care Heart Valve Center. Cooper has the largest volume of cardiothoracic surgeries in South Jersey, and more than 40% of that volume is attributed to valve procedures. Of those procedures, 95% of aortic valve replacement surgeries, and 2/3 of mitral valve procedures, are performed minimally invasively. Cooper and Inspira Cardiac Care cardiovascular surgery maintains exceptional valve procedure outcome statistics, reporting no mortality reported for mitral valve repairs in 2009, 2010, and 2011.
Consultation With a Heart Valve Specialist
This consultation offers an assessment of medical, interventional, and surgical options that includes transcatheter valve procedures and minimally invasive approaches. After consultation the patient is returned to the referring physician with a detailed plan of care, and access to the most advanced treatment modalities available in the field.
Patients who require interventional or surgical repair of valvular disease can count on the exceptional care, access to advanced technology and state-of-the-art facilities at Cooper University Hospital including:
State-of-art non-surgical technology and treatment options, including the Edwards Sapien transcatheter heart valve, the first therapy to repair aortic heart valves without traditional surgery.
Minimally invasive surgical treatments that emphasize small incisions, less pain, and more rapid recovery.
Advanced treatment and surgical facilities including hybrid state-of-the-art operating rooms, and the most experienced cardiac anesthesiology and perfusionist teams in the area.
An award-winning 30-bed Intensive Care Unit with physicians trained in critical care medicine at the bedside 24/7 to provide acute care in the immediate post-procedure period.
Availability of physician subspecialists and other services 24/7 to support patients with complex medical needs.
Round-the-clock emergency transfer by air or land through the Cooper Transfer Center.
For more information about the valve center, treatment for aortic valve disease, or to make an appointment, call 833.SJHEART (833.754.3278).