Adult Infectious Diseases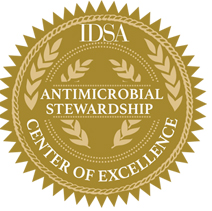 The Infectious Diseases specialists at Cooper provide exceptional and comprehensive medical care for common and complex infections. Our board-certified experts evaluate and manage acute and chronic infections in both inpatient and outpatient settings. That multidisciplinary care is enhanced by teams of specially trained nurses with additional support as needed from other Cooper specialists in behavioral health, case management, pharmacology, addiction medicine, gastroenterology.
Together, our experts coordinate and monitor appropriate long-term antibiotic therapy for all types of infections and work to ensure that patients adhere to their therapy to avoid incomplete treatment and possible infection relapses.
Cooper's infectious disease experts diagnose and evaluate infections caused by bacteria, viruses, and other organisms. We assist in the treatment of disease through the use of antibiotics and other agents, and aid in the prevention of disease by vaccination against infection. 
Infections We Treat
Cooper's specialists provide the highest quality clinical care for a variety of common infectious diseases as well as many rare and unusual infections, including: 
Hospital- and community-acquired infections
Meningitis
HIV/AIDS
Influenza
Osteomyelitis
Tuberculosis
Lyme disease
Travel-related infections
Malaria
Fungal infections
Viral hepatitis
Sexually transmitted diseases
Infectious diarrhea
Endocarditis
Complicated urinary tract infections
Fever of unknown origin
Skin infections
Pneumonia
COVID-19
Transplant-related infections (future)
Our Services
Cooper's specialists provide comprehensive infectious disease services that include:
Patient consultation
Managing treatment with antibiotics
Critical care consultation
Travel medicine
Early Intervention Program for immunodeficiency conditions
Access to clinical trials of evaluate new antimicrobial therapies and other treatments
Travel Medicine
Travel medicine is a specialized area of health care focusing on the needs of travelers, particularly those who travel to other countries. Cooper's infectious disease specialists have extensive knowledge of geographical locations and information about health conditions and disease outbreaks around the world. Our specialists know the requirements for foreign countries related to vaccinations, health reports, availability of medications, and other healthcare treatments for diseases and disorders.
If you are planning to travel outside of the country – particularly to developing countries in Africa, Asia, and Latin America – it is important to talk with an infectious disease physician with training in travel medicine. Although the U.S. government provides the latest information for the health and safety of U.S. travelers, this information cannot replace the having a personal relationship with a physician who is knowledgeable about the needs of those traveling abroad.
Ryan White Early Intervention Program
The Ryan White Early Intervention Program (EIP) at Cooper is a federally funded multidisciplinary center offering an array of services aimed at improving the health and well-being of those infected with or affected by HIV in South Jersey. We offer the highest quality medical care, support services, community education and early detection regardless of ability to pay.
Cooper's EIP offers:
Medical care
Medical case management
Behavioral health medicine
Research studies
Screening, Identification, Linkage to Care (SILC) services
Medication management
Nutrition counseling
Addiction medicine and counseling
Legal services
Dental center  
Research – Excision BioTherapeutics Phase 1/2 HIV Clinical Trial
Cooper University Health Care is selected as a clinical site for Excision BioTherapeutics Phase 1/2 trial evaluating EBT-101, as a potential functional cure for people living with human immunodeficiency virus (HIV).  For more information on this first in human trial eligibility criteria and enrollment details, please contact Yolanda Smith by calling 856.968.8651 or email smith-yolanda@cooperhealth.edu.