More than 44 million Americans—mostly women—have or are at risk for developing osteoporosis, a thinning and weakening of the bones that increases the chance of fractures, especially of the spine, hip, and wrist. One in two women and one in four men over the age of 50 will have a fracture related to osteoporsosis during their lifetime. Cooper University Hospital is one of a few centers in South Jersey offering kyphoplasty for spine fractures [vertebral compression fractures], the most common type of osteoporotic fracture. Spine fractures can lead to chronic pain, long-term disability, and even death."Kyphoplasty enables us to relieve a patient's spine pain quickly in a minimally invasive way," said Cooper Neurosurgeon Steven S. Yocom, DO. A Top Doc [South Jersey Magazine], Dr. Yocom is also an Assistant Professor of Surgery at the University of Medicine and Dentistry of New Jersey, Robert Wood Johnson Medical School.
Kyphoplasty is a safe and effective way to relieve pain and stabilize the fracture. "Unlike conventional treatment for spine fractures—pain medication, bed rest, and/or orthopedic bracing—kyphoplasty can also partially restore the bone's height and reduce spinal deformity," said Dr. Yocom. "Conventional treatment also exacerbates bone loss."
Dr. Yocom performs kyphoplasty through two tiny incisions—about 1/6 of an inch long each—in the patient's back. Using specialized X-ray imaging to show the fractured bone, he inserts a tube and then a balloon into the fractured bone. Dr. Yocom inflates the balloon to create a cavity that pushes the compressed bone into a more natural shape, and fills the cavity with bone cement. The bone cement hardens within minutes. Dr. Yocom closes the incisions with a single stitch.
"The patient generally feels better in the recovery room," said Dr. Yocom. "She can get out of bed and walk as soon as she wakes up."
Kyphoplasty takes less than an hour and is usually done under general anesthesia. For patients who are very frail, local anesthesia can be used. Patients generally stay in the hospital overnight.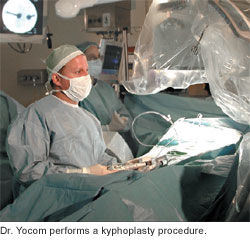 Although there is no cure for osteoporosis, the disease can be prevented and treated. Cooper rheumatologists offer risk assessment and comprehensive care for people who have, or at risk for, osteoporosis. "Osteoporosis causes no symptoms. The first manifestation of osteoporosis is usually a painful fracture. That's why testing is so important," said Gerald F. Falasca, MD, Head of Rheumatology at Cooper. Dr. Falasca is also a Top Doc [South Jersey Magazine] and an Associate Professor of Medicine at the Robert Wood Johnson Medical School.
Cooper rheumatologists assess the risk for osteoporosis through a special x-ray called dual energy x-ray absorptiometry [DEXA] that's simple, painless, and quick.
"Every woman should have a DEXA scan at menopause, some before that. By detecting osteoporosis early, appropriate lifestyle changes can be made, and medication can be prescribed, when appropriate, to help prevent fractures," said Dr. Falasca.
Dr. Falasca and Cooper's other rheumatologists counsel patients on nutrition, exercise, and other lifestyle issues to prevent osteoporosis or slow its progress. Unfortunately, many people get osteoporosis despite doing everything right. Medications to slow or stop bone loss, increase bone density, and reduce fracture risk are available.
Cooper neurosurgeons provide comprehensive surgical and non-surgical services for patients with injury to, or diseases of, the brain, spine, and peripheral nerves.
Cooper rheumatologists provide comprehensive treatment of arthritis, many types of autoimmune diseases, musculoskeletal pain, disorders of the musculoskeletal system, and other rheumatic diseases that affect joints, muscles, bones, skin, and other tissues.