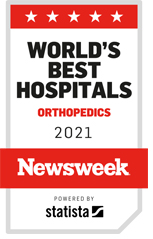 With the only level 1 trauma center in southern New Jersey, Cooper is uniquely equipped to care for adult and pediatric trauma patients 24 hours a day, seven days a week. In fact, Cooper University Hospital's trauma staff handles more than 2,000 cases each year – more than any other hospital in the entire Delaware Valley.
Working closely with on-site surgeons, anesthesiologists, and vital support services, our bone and joint specialists provide an expert level of immediate medical care to patients with severe injuries.
Why Choose Cooper for Orthopaedic Trauma Care?
Patients and families in the South Jersey community choose Cooper for orthopaedic trauma services because of our:
Expertise: We are the only trauma center in South Jersey with fellowship-trained orthopaedic traumatologists. All orthopaedic surgeons are trained to treat musculoskeletal injuries (injuries that affect the muscles, bones, tendons, blood vessels, nerves, or other soft tissues). However, our traumatologists have a higher level of expertise to handle complex injuries.
Experience in reconstructive trauma surgery: Sometimes, orthopaedic surgery isn't successful in correcting the effects of trauma, deformities, or other musculoskeletal problems. Our specialists have particular experience correcting injuries that aren't healing effectively or weren't set properly.
Innovative surgical options: Our skilled doctors stay up-to-date on orthopaedic research and practices. As a result, they are proficient in performing the latest surgical techniques for patients with complex fractures and post-traumatic conditions.
Team approach: At Cooper, a team of experts – such as surgeons, traumatologists, and other trauma professionals – works together for your benefit. This team collaborates on each patient's unique circumstances, ensuring you receive the highest level of care.
Care coordination: Cooper's orthopaedic trauma team uses carefully coordinated evaluation and treatment protocols. These steps help patients receive the best care, as quickly and efficiently as possible.
Orthopaedic Conditions We Treat
The Orthopaedic Trauma Institute provides exceptional care for a wide range of complex orthopaedic injuries, including:
Orthopaedic trauma and fracture care 
Pelvic and acetabular injuries 
Spine trauma
Upper and lower extremity injuries and fractures
Malunions and non-unions 
Osteomyelitis or infections of the bones
Reconstructive foot and ankle injuries
Periprosthetic fractures 
Contact Us
To learn more about Cooper's orthopaedic trauma services, to schedule an appointment, or to refer a patient, please call 800.8.COOPER (800.826.6737).