Taking Women's Cardiac Care to Heart
Heart disease is the number No.1 killer of both men and women. However, there are important differences in how heart disease presents in women — and how it is diagnosed and treated.
At Cooper and Inspira Cardiac Care, our regionally recognized cardiologists are dedicated to the unique needs of women. With the largest group of female cardiologists in South Jersey, the physicians of the Cooper and Inspira Cardiac Care Women's Heart Program are extraordinarily attuned to your physical and emotional needs – developing individualized, patient-family centered plans to help you achieve the best cardiac health.
Access to the Latest Options, Diagnosis and Treatment
Women have unique differences that may require special testing and treatments to provide the most effective cardiovascular care.
At Cooper and Inspira Cardiac Care, we offer you a variety of programs and services that include:
Comprehensive Cardiovascular Risk Assessment: Our physicians take the time to learn about you and gain an in-depth understanding of your health history.
Advanced Diagnostic Testing: Including echocardiography, complex nuclear imaging, and peripheral vascular disease and peripheral arterial disease screening.
State-of-the-Art Treatment:

Non-surgical heart and vascular treatments including angioplasty and stent placement
Cardiac arrhythmia management including medications, ablation, therapy and device implantation
Advanced heart-failure program
State-of-the-art cardiac surgery program
A Structural Heart Program to address heart and valve disease.
A Multi-disciplinary, Heart-Healthy Approach to Prevention and Education
Achieving and maintaining a healthy heart requires a multi-disciplinary team approach to identifying and managing cardiac risk factors that follows the guidelines of the American Heart Institute and the American College of Cardiology.
At Cooper and Inspira Cardiac Care Women's Heart Program, you'll have access to a multi-disciplinary network of team members including: physicians, medical assistants, physician assistants, nurse practitioners, and nurses.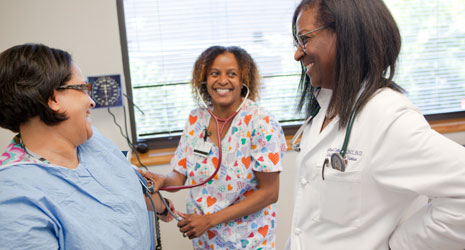 Access to Leading-Edge Clinical Research
As part of an academic health system, our Women's Heart Program faculty participates in ground-breaking research in areas ranging from cholesterol disorders to arrhythmia management to heart failure.
Specialized Programs Available for Complex Cardiovascular Needs
Cardiac and vascular management of the female diabetic patient
Cardiac assessment and monitoring of the female patient undergoing chemotherapy
Cardiac assessment of monitoring of the high-risk pregnancy patient
Risk stratification and risk factor modification of the post-menopausal, metabolic syndrome patients
Cardiac assessment and monitoring in obesity management, as well as the female patient undergoing bariatric surgery
For an appointment with a women's heart specialist, please call 833.SJHEART (833.754.3278).