Health Care as Unique as You – in Southern New Jersey

Members of the LGBTQ+ community have unique health care needs that deserve attention and are provided in a safe, welcoming, and inclusive environment.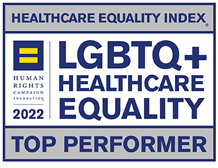 Whether it's gender-affirming hormone therapy for transgender and gender non-conforming individuals, pre-exposure prophylaxis (PrEP) to reduce the risk of HIV transmission, surgical options, or well-visit care, the LGBTQ+ Health program at Cooper provides a supportive environment to meet your health care needs.
We also work to address the societal pressures on members of the LGBTQ+ community that have led to higher rates of substance abuse, depression, anxiety, eating disorders, and suicide attempts.
Breaking Your Health Care Barriers
When it comes to health care, discrimination and accessibility are two of the most significant problems faced by the LGBTQ+ community. More than 50% of people in the U.S. who identify as LGBTQ+ have experienced some form of health care discrimination. Often this discrimination is unintentional, but in some cases – like providers directly refusing care – the discrimination is indeed intentional.
Having to explain yourself and your identity to health care providers can be frustrating and cause anxiety, which can lead you to withhold important information or stop seeking care.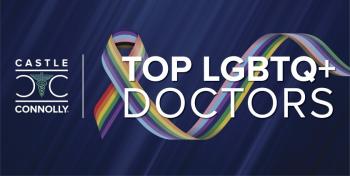 Access to health care can also be affected by the fact that many primary care providers have not been properly trained to meet the unique needs of the LGBTQ+ community and may refer them to a specialist. Unfortunately, many of these specialists are located far away, may not be covered by Medicaid or other insurance plans, and may have long wait periods. And while many primary care physicians are LGBTQ+ friendly, that information isn't advertised or readily available. The medical director of Cooper's Center for LGBTQ+ Health, Dr. Justin Schweitzer, has been named a Castle Connolly Top LGBTQ+ Doctor, one of only 64 physicians in the United States to achieve this distinction.
At Cooper, we are committed to helping to break the health care barriers faced by the LGBTQ+ community.
The Care You Need, the Care You Deserve
At Cooper, we strive to improve LGBTQ+ health through our mission to serve, to heal, and to educate. Here, you can expect our dedicated staff to affirm your sexual orientation and/or gender identity while being respectful and sensitive to your needs.
By collecting your sexual orientation and gender identity (also known as SO/GI) information, we are better able to recognize and respect your preferred name and personal pronouns and ensure we are asking you the right questions to meet your health care needs.
Among our specialized services, Cooper offers:
Primary care services, including PrEP for HIV prevention, STD testing, sexual health counseling, and gender-affirming hormone therapy (GAHT)
An Early Intervention Program team to manage patients who are HIV+, including two clinical health psychologists, medical case management staff, and a PrEP Patient Navigator
Partnerships with Cooper's breast and plastic surgery departments to offer top surgery to patients looking for chest masculinization (mastectomy)
Urological services that include orchiectomy, testicular implants, and managing post-bottom surgery complications
Mental health providers who are LGBTQ+ affirming
OB/GYN care for transgender men
In partnership with Cooper Medical School of Rowan University (CMSRU), we will be able to incorporate LGBTQ+ health needs into curriculum to educate the physicians of tomorrow. 
Supporting LGBTQ+ Health at Cooper
The Cooper Foundation supports Cooper Proud: LGBTQ+ Health in providing exceptional medical care and services to every patient, every day, in an inclusive and welcoming environment. Thoughtful gifts of all sizes help support a wide range of wellness initiatives and services focused on making the community happier and healthier. Click here to make your gift.