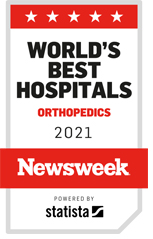 At the Cooper Bone and Joint Institute, our joint replacement and reconstruction surgeons are experts in shoulder, hip, and knee replacement. Our coordinated care approach ensures that you receive the utmost expertise in presurgical evaluation, surgical care, and follow-up rehabilitation services.
Why Choose Cooper for Joint Replacement Care?
Patients and families in the South Jersey community and beyond choose Cooper for joint replacement services because of our:
Expertise: The Cooper Bone and Joint Institute is the largest academic musculoskeletal institute in South Jersey. Our team includes fellowship-trained and board-certified specialists who have advanced training in the latest standards of joint care.
Forward-thinking treatment approach: We offer minimally invasive approaches, such as muscle-sparing joint replacement surgery, to decrease recovery time. Our surgeons also use computer-aided navigation and other advanced techniques, leading to more effective results.
Outstanding clinical results: Our team is committed to producing outstanding clinical and patient satisfaction results. Many of our patients are up and walking immediately after joint replacement surgery, return home in two to three days, and experience a significant improvement in their quality of life.
Innovative surgical options: Our joint replacement and reconstruction team has deep experience performing advanced procedures. We provide a full range of surgical options, including innovative options for primary joint replacements and complex revision surgeries.
Patient-focused care: We offer a high level of care in a patient-centered environment. After joint replacement surgery, every patient recovers in a private room on a recently constructed unit. Our unique pain management protocol reduces patients' nausea and discomfort, limiting the need for narcotic medication during and after surgery.
Team approach: Our musculoskeletal specialists can treat you from the earliest sign of degenerative joint disease. Specialists with different areas of expertise work together to develop a personalized surgical treatment plan for you. Our experts also coordinate your postsurgical rehabilitation with our physical therapy and rehabilitation staff. This team approach gets you back to the activities you love as quickly and safely as possible.
Personalized rehabilitation care: Our physical therapy team is specially trained to rehabilitate patients who have had joint replacement. We create a rehabilitation plan tailored to your health and your personal goals, with a focus on getting you back to your normal routine. Learn more about our physical therapy and rehabilitation program.
Care coordinator: We connect each patient with a surgical scheduler, who will help you navigate the care process. Your scheduler will help you prepare for surgery and schedule our Joint Replacement Education Class.
Joint Replacement Services
Our team is dedicated to providing expert care for patients undergoing joint replacement. Our specialists perform a full range of advanced, research-backed procedures, including:
Innovative technologies for primary joint replacements and complex revision surgeries
Minimally invasive, muscle-sparing joint replacement surgery to decrease patient recovery time
State-of-the-art techniques, including computer-aided navigation, that allow more accurate placement of components
Patient-specific knee replacements, unicompartmental knee replacements, and patella-femoral knee replacements
Advanced procedures for young, active patients such as hip resurfacing
A unique pain management protocol that reduces nausea and discomfort, limiting the need for narcotic medication during and after surgery
OrthoPAT Systems dedicated to limiting the need for a blood transfusion after surgery
Traditional shoulder replacement and reverse shoulder replacement to treat immobility caused by complex shoulder injuries and severe arthritis
Joint Replacement Education Class
At Cooper's joint replacement education class, our staff will answer any questions you may have about surgery and recovery. The class is one hour and will provide information on:
Your hospital stay after surgery
Your care once you leave the hospital, including how to prepare your home for your recovery
Our orthopaedic nursing unit private rooms and our therapy gym, with tours of both
Contact Us
To learn more about Cooper's joint replacement services, to schedule an appointment, or to refer a patient, please call 800.8.COOPER (800.826.6737).