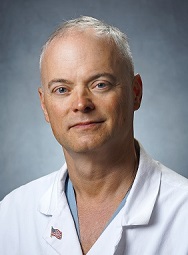 Col. John Chovanes, DO, FACS, USAR MC, is a surgeon in the Department of Surgery in the Division of Trauma, Acute Care Surgery, and Surgical Critical Care of Cooper University Hospital in Camden, NJ. Dr. Chovanes has been at Cooper Trauma since 2010 and is the founding Medical Director and Chief Surgeon of Cooper's Section of Military, Diplomatic, and Field Surgical Affairs. This section helps conduct intense clinical trauma training for our Nation's elite commando and diplomatic special operations forces. 
Dr. Chovanes completed a double fellowship in trauma surgery and surgical critical care at the University of Pennsylvania School of Medicine, Philadelphia, PA. He is a graduate of the Philadelphia College of Osteopathic Medicine, where he completed his internship and residency in general surgery and served as Chief Intern and Chief Surgical Resident. Prior to his surgical education, Dr. Chovanes was an EMT, paramedic, and registered nurse with various emergency medical units throughout Pennsylvania and New Jersey. Dr. Chovanes was one of the youngest EMTs in the Commonwealth of Pennsylvania, and one of the original flight paramedics with University MedEvac, the first medical evacuation helicopter servicing Pennsylvania and New Jersey. He is a life member of the Volunteer Medical Service Corps of Narberth and Lower Merion, Pennsylvania.
Dr. Chovanes is a Colonel in the United States Army Reserve Medical Corps. Since joining the reserves in 2001, Dr. Chovanes has completed six tours of duty in support of a variety of U.S. military operations. He served as a military trauma surgeon with the 325th Combat Support Hospital on Contingency Operating Base Speicher in Tikrit, Iraq, in 2007. He has served as both a trauma surgeon and the Deputy Commander of Clinical Services at Forward Operating Base Salerno in Khowst, Afghanistan, in both 2010 and 2012. In 2016, Dr. Chovanes was a trauma surgeon at Camp Manion with the 948th Forward Surgical Team during the Third Battle of Fallujah. Dr. Chovanes has received the Army Commendation Medal for Meritorious Service after successfully removing an unexploded rifle-propelled grenade from a U.S. Soldier. He also received the U.S. Army Soldier's Medal for Heroism after the 2001 World Trade Center attacks for providing field surgical care for a Port Authority of New York and New Jersey police officer trapped in the collapsed basement of the World Trade Center. He was recently awarded a 2017 Veteran of Influence Award by the Philadelphia Business Journal.
Maj. Timothy Galvin, MSN, RN, CCRN-K
Maj. Galvin is Director of the Section of Military, Diplomatic and Field Surgical Affairs in the Department of Surgery at Cooper University Health Care. He has served in various health care leadership and management roles in multiple major university hospitals. He has experience as a Director of Nursing and a Lean Six Sigma Black Belt on a dynamic Operational Excellence team prior to his current role. For the past 20 years he has served in various leadership roles in the Delaware Air National Guard.