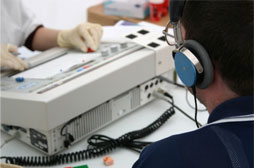 Speech-language pathologists at Cooper University Health Care evaluate and treat children and adults who experience difficulties with communication and swallowing. Our speech-language pathologists hold at least a master's degree, New Jersey state certification/licensure, and a Certificate of Clinical Competence from the American Speech-Language-Hearing Association (ASHA). Speech-language pathologists regularly continue education within their specialized areas.
Our patients range in age from birth through adulthood. For each patient, a comprehensive evaluation is completed to assist the speech-language pathologists in developing a treatment plan. We work closely with families and referring physicians to identify the patient's strengths and their needs to create an individualized treatment plan that can be implemented across various contexts (schools, outpatient therapy, at-home program, etc.).
We evaluate and treat disorders of child language, speech/articulation disorders, fluency, feeding and swallowing, voice, aphasia, degenerative diseases, cognition, and head and neck cancer. We are trained in the evaluation process and use of alternative and augmentative communication devices. We complete modified barium swallow studies to assess swallowing function for pediatric and adult populations in the inpatient and outpatient settings.
The Speech and Language Program collaborates with various interdisciplinary programs that include the Regional Cleft-Craniofacial Program of Southern New Jersey and Cooper's Neonatology Follow Up Clinic, Stroke Program, and Head and Neck Cancer Program. We provide in-service programs for the public and healthcare professionals.
To make an appointment with a speech-language pathologist, please call 856.342.3060.
Our Location
Three Cooper Plaza
Suite 511
Camden, NJ
856.342.3060
Please visit our Audiology Program page to learn more about our audiology and hearing services.