The Highest Standard of Stroke Care
The Cooper Neurological Institute Stroke Program provides the highest standard of care, including diagnosis, prevention and treatment, for patients with stroke and other cerebrovascular diseases.
Why Choose Cooper for Stroke Care?
The Most Advanced Care Possible
Our goal is to reduce disability and suffering resulting from stroke while providing the most advanced care possible. Patients receive a full range of specialized services and care in both an inpatient and outpatient setting.
Stroke Care Right in the Emergency Room
Cooper is now the first in the nation to offer a new, dedicated Acute Stroke and Neuro Interventional Suite within its Emergency Department. The suite is equipped with the latest generation Siemens biplane angiography system with an integrated CT scanner and fully integrated surgical image guidance, allowing us to treat stoke immediately, avoiding any unnecessary wait time within the hospital. Patients who come into the emergency department with stroke symptoms will be evaluated and treated right where they enter the hospital. This advancement will help us save precious brain tissue during a stroke, leading to better patient outcomes and shorter recovery times.
The Full Continuum of Stroke Care
Our team offers the only full-service program in Southern New Jersey with access to stroke specialists 24/7 who are specially trained on the latest and most advanced stroke treatments available.
Advanced Certification for Comprehensive Stroke Centers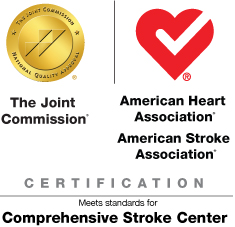 Cooper University Health Care has earned The Joint Commission's Gold Seal of Approval® and the American Heart Association/American Stroke Association's Heart-Check mark for Advanced Certification for Comprehensive Stroke Centers. The Gold Seal of Approval® and the Heart-Check mark represent hospitals with the highest level of stroke care and are symbols of quality from their respective organizations. Cooper is one of only seven hospitals in New Jersey and the first in South Jersey to achieve this significant certification.
With this certification, Cooper joins an elite group of health care organizations focused on highly specialized stroke care. To be eligible, hospitals must demonstrate compliance with stroke-related standards as a Primary Stroke Center and meet additional requirements, including those related to advanced imaging capabilities, availability of specialized treatments, and providing staff with the unique education and competencies to care for complex stroke patients.  
The American Heart Association Get With The Guidelines-Stroke Award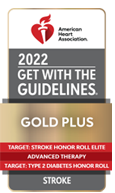 Cooper University Health Care has received the American Heart Association's Get With The Guidelines® Stroke Gold Plus with Target: Stroke Honor Roll Elite with Advanced Therapy with Target: Type 2 Diabetes Honor Roll. Award for our commitment to ensuring stroke patients receive the most appropriate treatment according to nationally recognized, research-based guidelines.
Hospitals receiving Get With The Guidelines® Gold Plus Achievement Award have reached an aggressive goal of treating patients with 85 percent or higher compliance to core standard levels of care as outlined by the American Heart Association/American Stroke Association® for 2 consecutive calendar years. In addition, those hospitals have demonstrated 75 percent compliance to (four out of ten heart failure quality measures or four out of seven stroke quality measures) during the 12-month period.
Important Statistics About Stroke
Stroke is the number five cause of death in the United States.
Stroke is a leading cause of adult disability in the United States.
On average, someone suffers a stroke every 40 seconds.
Someone dies of a stroke every 4 minutes.
795,000 people suffer a new or recurrent stroke each year.
Time Is Brain
Remember BEFAST to help save a life:
B = Balance: Is the person experiencing a sudden loss of balance or coordination?
E = Eyes: Is the person having a sudden change in vision or trouble seeing
F - Face: Ask the person to smile. Does one side of the face droop?
A = Arms: Ask the person to raise both arms. Does one arm drift downward?
S = Speech: Ask the person to repeat a simple phrase. Is their speech slurred or strange?
T = Time: If you observe any of these signs, call 9-1-1 immediately.
If you suspect you or someone you love is experiencing a stroke, immediately call 9-1-1.
The faster stroke victims are treated, the less damage to the brain.
Patients suffering from symptoms of acute stroke should be evaluated by a physician within 10 minutes of arrival to an emergency department. Treatment – either clot-busting medication or neurointerventional surgery – should be initiated within one hour.