Cooper Has More Than 100 Locations
Where will you work? Go to our interactive map to see all Cooper locations.
Camden Campus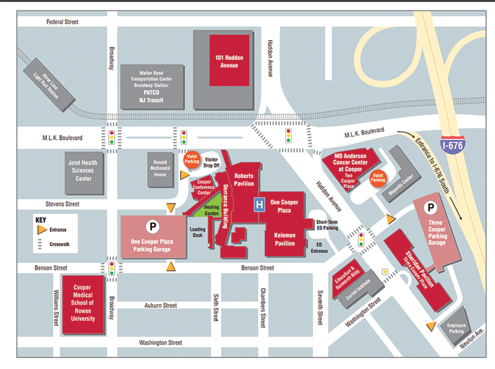 Camden Building Key
One Cooper Plaza: Main Hospital, Hospital Parking Garage and Parking Office, Conference Center, Badge Office, Kelemen and Roberts Pavilions, Dorrance Building, Starbucks, Cooper Solutions, Security
Two Cooper Plaza: MD Anderson Cancer Center at Cooper
Three Cooper Plaza: Sheridan Pavilion (outpatient medical offices)
Education & Research Building 
CCBO (L3 Technologies Building): Business offices and Epic training classrooms managed by IT

101 Haddon Avenue

: Business offices and training classrooms
CMSRU: Cooper Medical School of Rowan University and Medical School Garage
Camden Campus Dining and Snacks
You are able to use payroll deduction and swipe with your employee badge to pay for goods at many of the following meal and snack venues:
One Cooper Plaza: Natural! take-out store, Cooper Court eat-in cafeteria, Starbucks inside the hospital lobby (no badge payments)
Three Cooper Plaza – take-out cafeteria
CCBO: eat-in cafeteria
Seasonal Offering: food truck events at promoted locations in Spring, Summer, and early Fall
Cooper Cafeteria Bite App: order ahead using the Bite App
Food Delivery: order food (meals and special occasions) at Cooper Solutions
Other Onsite Services and Locations
Lactation Rooms
Chapel
Healing Garden
Conference Center
Cooper Solutions Center
On-Site Pharmacy
ABCO Federal Credit Union
On-site ATMs
In addition to onsite amenities, we are located close to the Camden Waterfront and right across the bridge from Philadelphia. Be sure to check out Cooper Solutions at the Hospital and CCBO for great discounts, partnerships, and event tickets.
Voorhees Campus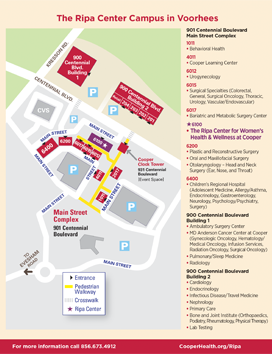 Willingboro Campus