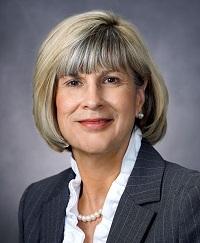 KATHY DEVINE, DrNP, NEA-BC
Senior Vice President and Chief Nursing Executive
Dr. Devine is responsible for professional nursing practice across the continuum of care to ensure safety, service, and quality outcomes for Cooper University Health Care's diverse patient population. In addition, she has administrative and operational leadership responsibility for Nursing and Patient Care Services. As SVP/CNE, Dr. Devine continues to advance nursing practice by engaging nurses in re-defining a professional practice model and shared governance structure that are grounded in theoretical tenets which align to organizational mission, vision, and values. 
Dr. Devine has held various leadership positions during her tenure at Cooper. Prior to her current role, she served as the executive director for the Centers of Urgent and Emergent Services, Critical Care, and Hospital-Based Services, managing a comprehensive range of clinical programs. As a professional nurse, she has a diverse clinical background with experiences in adult and pediatric critical care nursing, emergency and trauma nursing, as well as flight nursing. She received her MSN and DrNP from Drexel University, and obtained her nurse executive advanced certification through the American Nurses Credentialing Center (ANCC), and her Lean Six Sigma Green Belt certification from Villanova University.
Dr. Devine is an active member of the Organization of Nurse Leaders of New Jersey, serving on the board of directors, by-laws committee, and Nursing Workplace Environment and Staffing Council (NWESC).