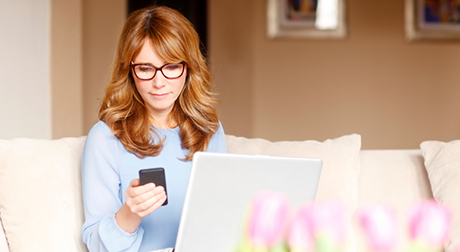 Before you receive care at Cooper University Health Care, you should understand the cost of your care, how much of your health care costs will be covered by your insurance, and how much of your costs will be your out-of-pocket responsibility.
Hospital and Provider Billing
When you receive care at Cooper University Health Care as a patient with insurance, Cooper will submit separate bills for hospital fees (facility charges) and provider fees (fees for services provided by your doctor or other health care professional) to your insurance company for payment. According to the terms of your insurance policy, you may be responsible for portions of your bill such as co-payments, co-insurance, and deductibles (see below).
Please note that providers' fees are bills that cover the health care services your doctor or other health care provider such as a nurse practitioner provided to you. These fees are separate from hospital fees (facility charges). Providers' fees are NOT included in the hospital's facility charges.
For questions about Cooper's charges or its chargemaster, or to get a quote, call 800.826.6737.
For questions about your hospital bill, call 855.434.5938
Cooper University Health Care employs its hospital based physicians (such as radiology and emergency room) and many other physicians in Cooper offices in the community, and therefore they accept the health insurance plans listed here, with a few limited exceptions. We recommend that you also contact your insurance company to confirm whether Cooper and your other providers are in network with your specific plan and whether your planned health care services are covered.
If you are receiving services from a physician or other provider who is in a separate group practice and not employed with Cooper your provider may or may not participate in your insurance plan. You should contact your health insurance company to ask if you will be covered for such services by providers not employed by Cooper.
You should always check with the provider who is arranging for your health care services to confirm whether or not he or she accepts your health insurance coverage. Additionally, you should also confirm with your insurance company that the specific services you will receive are covered under your health plan.
Your Responsibilities
Co-payments (co-pays) are specific dollar amounts identified in your health insurance plan that you are responsible to pay before your insurance coverage starts. At Cooper, all co-pays are expected to be paid at time of checkout.
Co-insurance is the percentage of your health care costs that you pay based upon your health plan. For example, if your health plan has a 70 percent co-insurance that means your health plan pays 70 percent of your health care claims and you are responsible to pay 30 percent of those claims.
Deductibles are the portion of your health care costs that you are responsible to pay before your health insurance coverage will begin paying your health care claims. For example, if your health insurance plan has a $500 deductible and your health care bill for a service covered by your health plan is $1,500, you will have to pay $500 and your health insurer will pay the remaining $1,000.
After you receive health care services at Cooper, you will receive regular statements via the mail advising you of the status of your account until your bill is paid in full. Should your insurance company deny payment on all or any portion of your hospital bill, you will be responsible for payment. You can make arrangements for payment with the Patient Accounting Department. Payments may be made in the form of cash, check, Visa, MasterCard, and American Express.
Financial Customer Service
Representatives are available for any questions regarding your hospital bill, insurance coverage, or any patient responsibilities.
Our representatives are available:
Monday through Thursday: 8 a.m. to 7 p.m. EST
Friday: 8 a.m. to 6 p.m. EST
Representatives may be reached at our toll-free number: 1.855.434.5938
Medicare
You have the right to all the hospital care required for the proper diagnosis and treatment of your illness or injury. According to federal law, your discharge date must be determined solely by your medical needs, not by your diagnosis or Medicare payments. You are entitled to full information about decisions affecting your Medicare coverage and the payment for hospital and post-hospital services.
Charity Care and Uninsured
If you require Public Assistance or Charity Care, advise the registration personnel or contact the Financial Counselor at 856.342.3140 to set up an appointment.
If you are uninsured or underinsured, you may qualify for a reduction of your billed charges. Click here for more information pursuant to New Jersey Legislature, P.L. 1971, c.136 and find out how you might qualify.
Financial Assistance Policy
Cooper University Health Care's mission is to serve, to heal, and to educate. As part of that commitment, Cooper  appropriately serves patients in difficult financial circumstances and offers financial assistance to those who have an established need to receive emergency and other medically necessary services.
Offering financial assistance is just one component of Cooper University Health Care's charitable mission.
Financial assistance-eligible individuals include patients who do not have insurance and patients who have insurance but are underinsured. Opportunities for financial assistance may be reviewed before or after a service is rendered.To be eligible for financial assistance, patients must cooperate with any insurance claim submission, exhaust their insurance or potential insurance coverage, and complete the financial assistance application process in full.
Patients who want to apply for financial assistance, or who have been identified as a potentially eligible for financial assistance, will be informed of the application process. 
Patients, or their representative, may obtain a Financial Assistance Screening application or a full copy of Cooper's Financial Assistance Policy in the mail by contacting Financial Counseling at 856.342.3140. Hardcopies are available by visiting our hospital or any of our more than 100 practice locations, or downloading and printing the policy or application at no charge.
The Financial Assistance Policy is available in English, Spanish, Korean and Vietnamese at the links below:
 The Financial Assistance Application is available in English, Spanish, Korean and Vietnamese at the links below:
There are some important steps to complete your application for Financial Assistance. You will be asked to provide the following information:
Proof of completion of:
Financial Assistance application process, as applicable.
Proof of household income (pay stubs for the past 90 days).
A copy of three most recent bank statements from all banking or credit union institutions of the household.
A copy of the two most recent tax returns, including all tax schedules of patient, spouse, or any person who claims the patient as a tax dependent.
Full disclosure of claims and/or income from personal injury and/or accident related claims.
Amounts charged for emergency and medically necessary services to patients eligible for Financial Assistance will not be more than the amount generally billed to individuals with insurance covering such care.
Additional Financial Assistance/Charity Care Forms
Please check with your financial counselor to determine which of these additional forms may be necessary to complete your application for financial assistance.
Any questions about eligibility or about the process to apply may be directed to our Financial Counselors at 856.342.3140. Cooper's Financial Counselors are ready to help you with any questions about submitting your Financial Assistance Screening application.