When your family's care can't wait.
Walk-In Urgent Care - No Appointment Necessary - Weekend Hours
Audubon - Cherry Hill - Cinnaminson - Runnemede
Experience the Cooper Urgent Care difference. Cooper Urgent Care Centers are the only centers that are staffed by emergency medicine physicians, ensuring you'll get the highest level of care.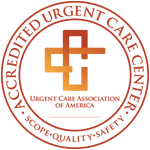 Cooper Urgent Care has been awarded Urgent Care Association of American (UCAOA) Accreditation, the highest level of distinction. The designation signifies that Cooper has met all of the Urgent Care Association of America's established standards and criteria for quality of patient care, safety, and scope of services.
Reserve Your Spot
Check the wait times for our Urgent Care Centers below and reserve your place in line by clicking the RESERVE MY SPOT link. This can help decrease time spent in our waiting rooms. You will receive a text message and email informing you when to come in to be registered. Please note that wait times are approximate and your personal experience may vary from the posted times.
Make your visit even quicker by filling out our Patient Registration Form before you arrive.
Walk-In Urgent Care – No Appointment Necessary
Cooper Urgent Care Centers provide medical care on a walk-in basis. No appointment is necessary.
Board-certified emergency medicine physicians
On-site X-ray
Convenient, immediate and service oriented
Less expensive than an ER visit for non-life-threatening illnesses or injuries
Our Services
At the Cooper Urgent Care Centers, we treat the minor illnesses and injuries that can cause discomfort and disruption for you and your family, but do not require the life-saving services of a hospital emergency room. Here are some examples of what we treat:
Breaks and sprains
Colds and flu
Ear aches and infections
Minor cuts, scrapes and burns
Stitches and removal of stitches
Strep throat
Upper respiratory problems
Urinary tract infections
Acute work-related injuries
Immunizations and vaccinations (work and college)
Minor eye infections such as pink eye
Cooper Urgent Care also provides a range of affordable services including:
Sports, school and camp physicals
TB skin tests
Pregnancy tests
The Right Level of Care When You Need It
Cooper is here to serve you close to where you live. With dozens of offices in South Jersey, we can provide the right level of care no matter your concern.