Cooper Medical School of Rowan University
For more than 130 years, Cooper University Health Care has provided the highest quality health care for the people of South Jersey and the Delaware Valley while pioneering medical discoveries and educating the next generation of health care professionals.
Our foundation as an academic health system fosters a culture of innovation and teamwork that allows us to care for the most sick and medically complex patients, improve the health of our community, and focus on tackling future health care needs.
We Are an Academic Health System
In 2012, Cooper University Health Care, in partnership with Rowan University, launched Cooper Medical School of Rowan University, the only four-year, MD-degree medical school in the southern part of the state. Each year, Cooper physicians teach and mentor hundreds of medical students, residents and fellows, bringing together great medical minds of the present and future.
The medical field changes rapidly as new treatments are found, new diagnostic tools created, and new recovery plans discovered. Educating the next generation of physicians is a proactive way for our board-certified physicians to remain current in their respective areas of expertise.
Innovations in Medical Research
In addition to educating students at Cooper Medical School of Rowan University and training residents and fellows at Cooper University Hospital, Cooper is on the forefront of expanding current medical knowledge, leading to innovations in patient care.
As educators, our physicians participate in the development new treatments, medications and technologies through an array of grant-funded medical and scientific research. Each year, Cooper clinical faculty publish hundreds of articles and manuscripts in leading academic medical and scientific journals and share their knowledge at conferences and meetings around the country and the world.
How Cooper Medical School of Rowan University Helps You
Cooper's commitment to academic medicine directly benefits your recovery and overall care. Because our medical professionals learn and work together in teams, with access to the latest medical advances and innovations, patient care improves. In fact, patients treated at teaching hospitals have up to 20 percent better odds of survival than those treated elsewhere. That's not just for complex care, but also for the most common medical and surgical conditions.
For those with complex diagnoses, being an academic health system means better access to clinical trials and more effective recovery plans.
Our goal is to give you the specialized attention and support you need while utilizing the latest advancements in medicine. Cooper Medical School of Rowan University helps us continue to provide that high level of personalized care.
Trust Cooper with Your Health Care Needs
At Cooper, we are providing patients in South Jersey and the Delaware Valley with the most advanced medical care available in a patient-centered environment.
Give Cooper University Health Care a chance to assist you through the diagnosis, treatment, and recovery process. We're your go-to provider for routine check-ups, urgent care visits, specialty diagnoses, and everything in between.
To learn more about services available or to schedule an appointment, please call 800.8.COOPER (800.826.6737).
Offices at This Location
Campus Map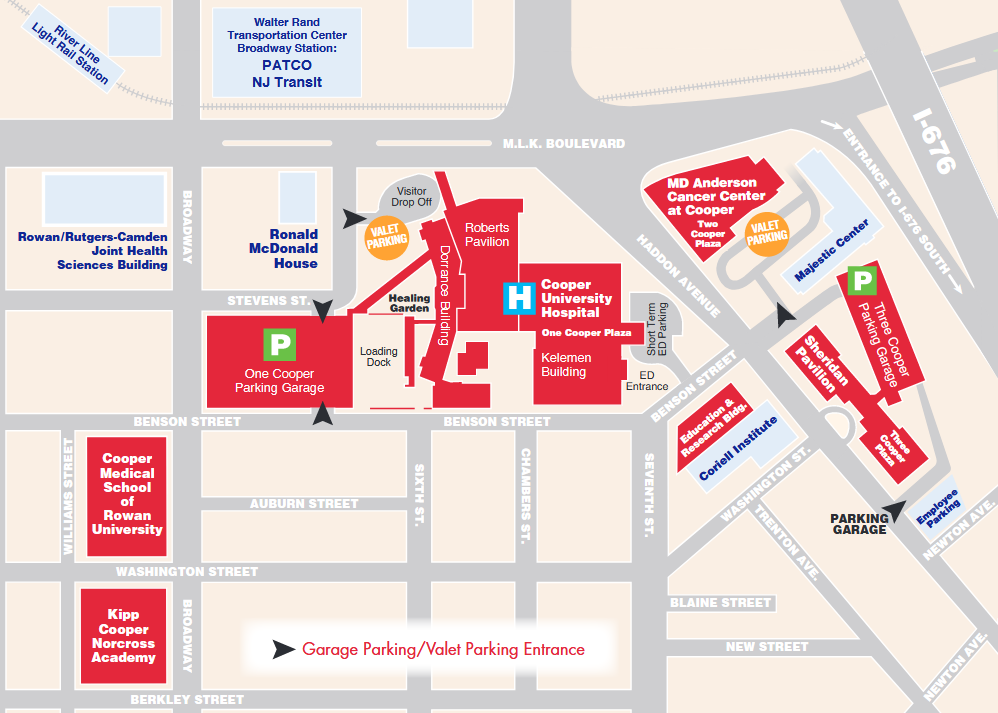 View or Print PDF