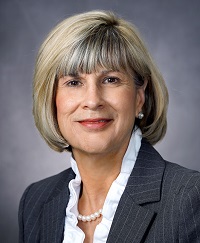 Kathy Devine, DrNP, RN, NEA-BC
Senior Vice President and Chief Nursing Executive
Dr. Devine is responsible for professional nursing practice across the continuum of care to ensure safety, service, and quality outcomes for Cooper University Health Care's diverse patient population. In addition, she has administrative and operational leadership responsibility for Nursing and Patient Care Services. As SVP/CNO, Dr. Devine continues to advance nursing practice by engaging nurses in re-defining a professional practice model and shared governance structure that are grounded in theoretical tenets which align to organizational mission, vision, and values.
Dr. Devine has held various leadership positions during her tenure at Cooper. Prior to her current role, she served as the executive director for the Centers of Urgent and Emergent Services, Critical Care, and Hospital-Based Services, managing a comprehensive range of clinical programs. As a professional nurse, she has a diverse clinical background with experiences in adult and pediatric critical care nursing, emergency and trauma nursing, as well as flight nursing. She received her MSN and DrNP from Drexel University, and obtained her nurse executive advanced certification through the American Nurses Credentialing Center (ANCC), and her Lean Six Sigma Green Belt certification from Villanova University.
Dr. Devine is an active member of the Organization of Nurse Leaders of New Jersey, serving on the board of directors, by-laws committee, and Nursing Workplace Environment and Staffing Council (NWESC).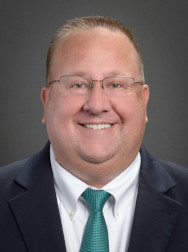 Timothy D. Marks, DNP, MBA, RN, CEN, NEA-BC
Vice President and Associate Chief Nursing Officer
Dr. Marks joined Cooper University Health Care as the Vice President and Associate Chief Nursing Officer. Since working as a nursing assistant, emergency department technician, and staff nurse, the patient and the staff has always come at the center of his practice. As a leader, Dr. Marks has served in a variety of clinical leadership and academic positions including in emergency departments, observation services, inpatient nursing, clinical education; as a clinical adjunct professor; and in roles including unit director, division director, and system associate vice president and chief nursing officer.
Throughout his more than 20 years in health care, Dr. Marks has dedicated his knowledge, experience, and expertise to foster and develop professional and clinical expertise, and to enhance engagement of the nurses and inter-professional teams he serves. High-quality care, efficient and clinical and patient-centered outcomes are achieved through building strong relationships and a passion for building collaborative teams.
Dr. Marks' vast experience has positioned him to develop proactive and innovative approaches that improve the organizations and communities he has served in New Jersey and Pennsylvania. His authentic leadership style and strong belief in shared governance has led previous organizations to successful designation and accreditation for nursing's highest clinical practice and outcome awards. 
Dr. Marks is certified by the American Nurses Credentialing Center (ANCC) as a Certified Emergency Nurse (CEN) and a Nurse Executive - Advanced, Board Certified (NEA-BC). He is a member of the New Jersey Organization of Nurse Leaders (NJ ONL) and former Co-Chair of the Education Committee in Pennsylvania.
Dr. Marks earned his Doctorate of Nursing Practice, with a doctoral nursing project focusing on improving the patient experience and enhancing clinical outcomes. He obtained a Master of Business Administration (MBA) from Alvernia University, a Master of Science in Nursing (MSN) as an acute care nurse practitioner, a post-baccalaureate certificate in Nursing Education, and RN- BSN from Drexel University in Philadelphia. He originally completed an associate degree in Applied Science from Burlington County College in New Jersey and became a registered nurse.
Dr. Marks has published and presented his work in local, national, and international multi-media forums and continues to seek new opportunities to elevate professional nursing practice in those he works with, and those around the world.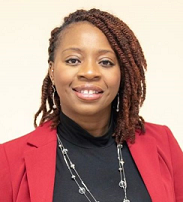 Nowai Keleekai-Brapoh, PhD, RN, NPD-BC
Assistant Vice President, Nursing Quality, Professional Practice, and Innovation
Dr. Brapoh joined Cooper University Health Care with 20 years of varied nursing leadership experience in cardiac, research, quality and safety, and professional development.
She had a long tenure as the first Nurse Researcher at Atlantic Health System Overlook Medical Center where guided nurses in developing a culture of inquiry to elevate nursing practice and care delivery. She was also instrumental in increasing nurse engagement in shared governance, which culminated in a successful first Magnet® designation.
Dr. Brapoh has led many successful research and quality improvement efforts, and her research covers various leadership and clinical strategies to drive quality patient outcomes. She has published and presented locally and nationally on a range of topics, including creative approaches to knowledge translation in the clinical setting. Throughout her career, she has collaborated with staff and leaders across disciplines to implement innovative, evidence-based practices into administrative and clinical decision-making.
Delivering high-quality, patient-centered care begins with a talented and empowered workforce practicing in a healthy work environment. In her role, Dr. Brapoh provides strategic oversight for nursing quality and professional development. She brings her leadership, passion, and advocacy to Cooper to inspire our teams as we advance excellence in nursing practice to deliver on our mission to serve, heal, and educate.
Dr. Brapoh is an active member of the Association for Nurses in Professional Development, the New Jersey State Nurses Association, and the American Organization for Nursing Leadership. She earned her Bachelor of Science in Nursing from The Ohio State University in Columbus, OH, her PhD from Columbia University in New York, NY, and is board certified in Nursing Professional Development.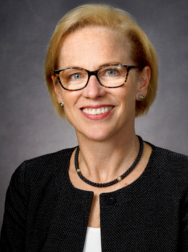 Eileen F. Campbell, MSN, APN
Assistant Vice President, Advanced Practice Providers and Independent Licensed Practitioners
Ms. Campbell is the Assistant Vice President of Advanced Practice Providers (APP) and Licensed Independent Practitioners (LIP). Her administrative responsibilities include oversight and standardization of recruitment/retention, professional development and engagement, quality and safety, education and research activities for APPs and LIPs. This broad oversight includes Nurse Practitioners, Physician Assistants, CRNAs and Psychologists which comprise approximately 40% of the medical staff. Ms. Campbell is credentialed as a Family Nurse Practitioner with Emergency Medicine.
Prior to rejoining Cooper in 2016, Ms. Campbell held numerous leadership positions at area organizations. She served as the Associate Program Director for the Family Nurse Practitioner Program at the University of Pennsylvania. She was the Director of Clinical Research in her primary care practice and sub investigator for randomized clinical trials. She practiced as a Family NP for 18 years in a private family practice where she provided direct care across the lifespan. Prior to becoming an NP, Eileen served in clinical leadership roles as an RN and worked clinically in medical surgical units, oncology and the emergency department at Cooper and in the South Jersey/ Philadelphia region and nationally as a travelling nurse.
Ms. Campbell is very involved in promoting the role of APPs and continuing to develop this valuable workforce. She is an advisory board member for Advanced Practice Provider Executives, Inc. (APPex), a national organization for Advanced Practice leaders. She is a member of the American Association of Nurse Practitioners and the American Nurses Association.
Ms. Campbell completed her BSN at Boston College and her MSN at the University of Pennsylvania. She is a board-certified Family Nurse Practitioner through the American Nurses Credentialing Center (ANCC) and is licensed as an APN in New Jersey and a CRNP in Pennsylvania.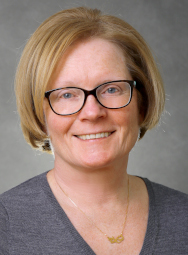 Karen Gruber, RN, BSN, CEN, NE-BC
Assistant Vice President, Nursing Operations
A member of nursing for 32 years, Ms. Gruber has also been instrumental in the growth of emergency medicine nursing at Cooper.
Ms. Gruber joined Cooper in 1989 as a PRN advancing to a staff RN. She then became the assistant clinical director and then clinical director of the Emergency Department (ED) during a time of expansion. She was instrumental in the development of the Clinical Decision Unit, which opened in 2011, where patients who present to the ED benefit from further observation resulting in either an admission or discharge within a 24-hour timeframe. Since 2012, she helped launch – and continues to oversee – nursing at Cooper Urgent Care Centers with its unique emergency medicine staffing model. As director of the Cooper Transfer Center, which accepts 5000 patient transfers a year from area hospitals, she works closely with Cooper Air and Ground Transport to insure patient admission to Cooper's specialty care programs.
Ms. Gruber is a retired captain of the United States Navy Corps. She was awarded the Military Employee of the Year award at Cooper in 2020 for her extraordinary nursing leadership during the pandemic, participation in the COVID-19 Regional Command Center, and in working with the team in establishing the field base to care for COVID-19 patients. She also has led numerous initiatives aimed at improving health care access, health screenings, and COVID-19 testing sites. She is also an active member of the New Jersey Hospital Association Organization of Nurse Leaders.
Ms. Gruber received her bachelor of science nursing degree from Wagner College in Staten Island, New York. She is a certified nurse executive as well as a certified emergency nurse. She is also a Lean Six Sigma Yellow belt.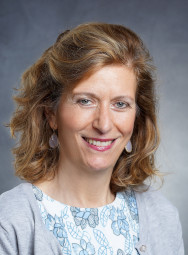 Susan Cannon, MSN, RN, CPN, NE-BC
Assistant Vice President, Nursing for Women's and Children's Hospital Operations
Ms. Cannon, MSN, RN, CPN, NE-BC, is the Assistant Vice President of Nursing Operations. Her areas of focus include women's and children's nursing and adult medical-surgical nursing. Ms. Cannon integrates 35 years of clinical and leadership experience into her practice which helps to guide her vision of the future. During the course of her career Ms. Cannon has focused on team building, shared governance, frontline leadership development and ensuring nursing has a strong influential position amongst the inter-professional team in support of quality patient outcomes.
Ms. Cannon obtained her BSN from Thomas Jefferson University in Philadelphia in 1986 and began her nursing career as a pediatric critical care and burn nurse. Ms. Cannon obtained her Master's of Science in Nursing Leadership in Health Services Management in 2010 from Drexel University in Philadelphia. She is certified by the American Nurses Credentialing Center (ANCC) as a nurse executive, and the Pediatric Nursing Certification Board (PNCB) as a Certified Pediatric Nurse (CPN).
Ms. Cannon is a Board member of the Burn Foundation and the Southern New Jersey Perinatal Cooperative. She is an active member of Organization of Nurse Leaders of New Jersey where she serves on the Advocacy Committee. Ms. Cannon has been named by the Secretary of the Department of Health and Human Services as a Special Government Employee to serve on the National Council on Nurse Education and Practice (NACNEP). Ms. Cannon has presented her work at local and national conferences to highlight evidence-based practice and promote quality outcomes. She continues to strive to ensure staff are supported to achieve their goals through removing barriers and providing a structure that empowers their growth and celebrates their achievement.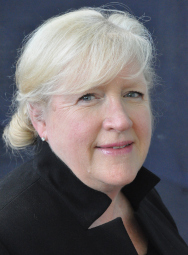 Diane Floyd, BSN, MSN, CCRN, TCRN, NE-BC
Assistant Vice President, Nursing Operations
Ms. Floyd started her nursing career in 1981 graduating with a diploma in nursing and immediately transitioned into critical care. Years at the bedside and desire to grow both in skill and knowledge resulted in further pursuit of career goals including a BSN and later a Master of Science in Nursing with an Emphasis in Nursing Education (MSN-Ed) degree.
A passion for people and learning drives Ms. Floyd to explore opportunities to improve the art and science of nursing. With nearly forty years of nursing and leadership experience in critical care and trauma, Ms. Floyd's career work has been focused in support of creating and building high functioning teams and producing positive patient outcomes and experiences. She has demonstrated success in the collaborative implementation of evidenced-based practices to improve the delivery of safe, quality patient care. She has established essential partnerships through the engagement of direct care staff, physicians and leaders to attain these achievements.
Ms. Floyd has published and presented her work in national and international forums and continues to seek opportunities to promote excellence in nursing practice.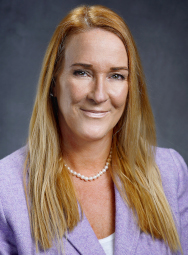 Tammy Huster, MBA, MAS, BSN, RN, CMSRN, NE-BC
Assistant Vice President, Nursing Operations
In her role, Ms. Huster supports a number of clinical and non-clinical areas at Cooper including surgical inpatient units, the Digestive Health Institute, Heart Institute/Cardiac Partners at Cooper and Inspira, Respiratory Department, and Transport services.
Ms. Huster joined Cooper in 2020 from Virtua Health System in South Jersey after having served multiple leadership nursing positions since 2005. Prior to her working at Virtua, she was the assistant director of nursing at Fountains at Cedar Parke in Atco, New Jersey, a continuing care retirement community.
She served in the United States Army from 1985 to 2003 as a medic, licensed practical nurse, and registered nurse providing emergency, medical surgical, and orthopaedic care in a variety of clinical settings in Europe and the United States including Alaska, California, and New Jersey. During her time in the Army, she honed her leadership skills and abilities including mentoring new soldiers and health care personnel. She attended advanced-level leadership training and received numerous leadership awards.
Ms. Huster obtained her master of business administration and bachelor of science nursing degrees from Aspen University, Aspen, Colorado; her master of administrative science from Farleigh Dickinson University, New Jersey; her bachelor of science psychology from University of Alaska, Fairbanks, Alaska; and associate degree/diploma from Helene Fuld School of Nursing, Blackwood, New Jersey.
Ms. Huster is certified by ANCC as a nurse executive and is MSNCB certified as a medical surgery nurse. She has a Lean Six Sigma Greenbelt.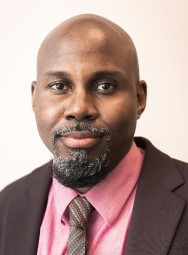 Sean D. Koger, MBA, BSN, RN
Assistant Vice President, Nursing Operations
Mr. Koger began serving as Assistant Vice President of Surgical Services at Cooper University Hospital in November 2019. In his role he reports to the Georgina Hurley, VP of the Surgical Services Institute and Kathy Devine, Senior VP and Chief Nurse Executive. Mr. Koger embodies the mindset and practice of Cooper's mission of serving, healing, educating and strategically supports the following units: Operating Room in Camden, Post Anesthesia Care Unit (PACU), Central Sterile Processing (CSP), Preadmission Testing (PAT), Camden Same day surgery, Pre-Admission Testing (PAT) and the Cooper Surgery Center in Voorhees.
In 2003 Mr. Koger earned his Bachelor's of Science in Nursing from Temple University Hospital in Philadelphia and immediately began his career as an Operating Room Nurse at University of Pennsylvania. During this time, he received valuable "hands on" experience in the Operating Room learning the true fundamentals patient care through. He later obtained his Master of Business Administration in 2008 from Drexel University where he was then able to merge the world of healing with healthcare administration. After a robust career at University of Pennsylvania he returned to Temple University Hospital holding several Periop Leadership positions including Sr. Nurse Manager of the Operating room.
Through Mr. Koger's almost 20 years of professional experience in various roles, he has earned the trust and respect from direct reports, peers and senior leaders alike. He has a proven track record of natural leadership. He has highlighted involvements through multiple Perioperative Nursing Leadership positions within various tertiary healthcare institutions within the Philadelphia region. In many of his roles he has helped educate, develop and promote other diverse leaders, built Periop 101 Nursing programs, helped to produce and support a shared governance model and took part in Temple University becoming Magnet designated.
In addition to Mr. Koger's leadership experience, he has held positions in clinical education for one of the healthcare industries leading medical device manufactures. His clinical and leadership experience will continue to help drive the mission and vision of Cooper University Health and the Nursing Department.