Adult Infectious Diseases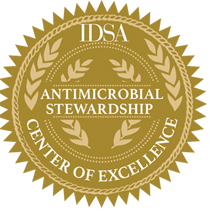 Infectious disease specialists at Cooper diagnose and evaluate infections caused by bacteria, viruses, and other organisms. We assist in the treatment of disease through the use of antibiotics and other agents, and aid in the prevention of disease by vaccination against infection. Cooper infectious disease specialists also staff the Early Intervention Program for individuals affected by the HIV.
Pediatric Infectious Diseases
In addition to treating immune deficiency diseases, we diagnose and administer appropriate treatment to youngsters who have viral, bacterial or fungal infections. The Children's Regional Hospital's infectious disease specialists provide consultative services for patients referred from throughout the southern New Jersey Region as well as inpatient diagnosis and treatment. Our state-designated Pediatric HIV Treatment Program provides comprehensive, multidisciplinary care for affected families.
A Program for Travelers
Travel medicine is a specialized area of health care that focuses on the needs of travelers, particularly those who travel to other countries. Our infectious disease specialists have knowledge of geographical locations and information about health conditions and disease outbreaks in different countries. Our specialists know requirements for foreign countries related to vaccinations, health reports, availability of medications, and other healthcare treatments for diseases and disorders.
If you are planning to travel out of the US, particularly to the developing countries of Africa, Asia, and Latin America, it is extremely important to talk with an infectious disease physician with training in travel medicine. Although the U.S. government provides the latest information for the health and safety of U.S. travelers, it cannot replace having a personal relationship with a physician who is knowledgeable about the needs of people who travel abroad.
To make an Infectious Diseases appointment, please call 856.963.3518.
For the Early Intervention Program, please call 856.963.3715.
Excision BioTherapeutics Phase 1/2 HIV Clinical Trial
Cooper University Health Care is selected as a clinical site for Excision BioTherapeutics Phase 1/2 trial evaluating EBT-101, as a potential functional cure for people living with human immunodeficiency virus (HIV).  For more information on this first in human trial eligibility criteria and enrollment details, please contact Yolanda Smith by calling 856.968.8651 or email smith-yolanda@cooperhealth.edu.