Transforming the Practice of Gynecologic Surgery
If you or a loved one has been diagnosed with a condition that requires surgery, consider the most effective, least invasive surgical treatments available at Cooper's Section of Minimally Invasive Gynecology and Robotics. The section, within Cooper's Department of Obstetrics and Gynecology, includes Benign Gynecology, Pediatric and Adolescent Gynecology, Gynecological Oncology, Urogynecology and Pelvic Reconstructive Surgery.
Using advanced techniques, Cooper's experienced surgeons in these specialties can diagnose and/or treat patients without performing a major incision during surgery. Through minimally invasive procedures using laparoscopic and robotic techniques, surgeons can treat a variety of gynecologic conditions, including:
Cancer
Pelvic pain
Endometriosis
Mullerian system anomalies and variants
Pelvic and abdominal adhesions
Symtomatic fibroids, even if very large, which cause pain and bleeding
Ovarian cysts
Pelvic floor prolapse
Bladder and bowel incontinence associated with prolapse
Infertility surgery
At Cooper, the da Vinci® Surgical System – a laparoscopic surgical robot that combines computer technology and the surgeon's skill -- provides patients with an excellent alternative to traditional open surgery. The da Vinci System enables surgeons to perform even the most complex and delicate procedures through very small incisions with unmatched precision.
For the patient, benefits can include: 
Significantly less post-operative pain
Less scarring
Minimal blood loss and tissue damage
Decreased length of stay, usually one day; occasionally two days
Faster recovery at home
Better clinical outcomes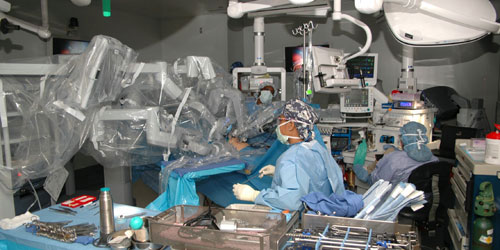 Benign Gynecologic Surgeries, including Hysterectomies, Myomectomies, Oopherectomies, Ovarian Cystectomies, Excision of Endometriosis and other Gynecologic Surgery Services
Traditional open surgery, using a large incision for access to the uterus and surrounding anatomy, has for many years been the standard approach to many gynecologic procedures. Yet, open surgery often results in significant postoperative pain, trauma to surrounding tissue, a long recovery process in the hospital and at home.
For simple or complex hysterectomies and other gynecologic procedures, robot-assisted surgery with the da Vinci Surgical System can be the most effective, least invasive treatment option. Through tiny, 1 cm incisions, surgeons using the da Vinci System can operate with greater precision and control, minimizing blood loss, and decreasing the pain and risk associated with large incisions while increasing the likelihood of a fast recovery and excellent clinical outcomes.
At Cooper, surgeons have been successfully using the daVinci system even for patients with indications that one necessitated an "open" procedure, such as:
Multiple prior surgeries
High body mass index
Obesity
Large fibroids
Known severe adhesive disease
Extensive endometriosis
Gynecologic Oncology Surgery
Cooper's experienced surgeons are at the forefront of using new minimally invasive surgical techniques for cervical, ovarian, endometrial and uterine cancers. Procedures performed include total laparoscopic hysterectomy, lymph node dissection, oophorectomy and ovarian cystectomy.
Urogynecology & Pelvic Reconstruction Surgery
Cooper's expert surgeons use minimally invasive and robotic gynecologic surgery to treat bladder and pelvic floor disorders, including incontinence, and cervical, uterine, rectal and vaginal prolapse.
Infertility Surgery
Cooper's expert infertility surgeons are very adept at both laparoscopic and hysteroscopic infertility procedures, including salpingiolysis.