Experienced Doctors Who Are Committed to Your Special Needs
Cooper University Health Care offers a comprehensive selection of plastic and reconstructive surgery options utilizing the latest medical knowledge and technology.


Our outstanding physicians are dedicated to providing a friendly, supportive environment where you are encouraged to ask questions and to be an active participant in your health care decisions. Every doctor on our team shares a commitment to serving the needs of people of varied cultures, races, religious beliefs, and ethnic backgrounds.
Cooper physicians are not only experts in their field; we are also faculty members at Cooper Medical School at Rowan University. 
Cooper plastic surgeons have been recognized regionally, nationally, and even internationally for expertise and service. We have earned a reputation for working closely and effectively with both patients and other medical professionals. We maintain three convenient offices to serve the southern New Jersey area: Camden, Voorhees, and Washington Township.
What Is Plastic Surgery?
Plastic Surgery is a surgical specialty that provides medically necessary services to reconstruct body parts affected by trauma, disease, or birth defects. This specialty also provides cosmetic surgery to improve appearance.
Plastic surgeons treat deformities that result from birth defects, traumatic injuries, aging, and cancer. In cases where men or women choose elective surgery to enhance their appearance—and not to correct the results of disease, accident, or birth defect—the procedure is referred to as cosmetic or aesthetic surgery.
As used here, the word plastic is derived from the Greek word that means "mold." It does not refer to a synthetic material. Plastic surgeons use the body's own tissues whenever possible. However, synthetic materials may be used in certain circumstances.
Expert Reconstructive Surgery
The primary purpose of reconstructive surgery is to provide improved function and appearance to individuals who have been the victims of accidents, disease, or birth defects.
For example, Cooper's expert plastic surgeons regularly treat individuals who have suffered injuries to the bones of the head or face, hand injuries, burns, or scars. Patients recovering from skin cancer or tumors, as well as women who have undergone mastectomies, can benefit from Cooper's innovative reconstructive surgery. Cooper doctors are also adept at assisting individuals born with cleft lips, cleft palates, and malformations affecting the head, jaw, or face.
Cooper Plastic Surgery Associates offers state-of-the-art expertise in all facets of reconstructive treatment. However, Cooper's special dedication to pediatric plastic surgery is particularly noteworthy. Services for children and adolescents include trauma reconstruction, as well as elective procedures such as mole removal and scar treatment.
Regardless of the age of the patient or the procedure, the physicians and staff are committed to treating every individual with sensitivity and understanding. For example, our plastic surgeons will provide bloodless surgery, when possible, to those who desire it because of their religious beliefs.
Enhancing Your Appearance Through Cosmetic Surgery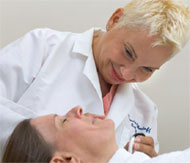 Cosmetic surgery, sometimes referred to as aesthetic surgery, is designed to change and enhance an individual's appearance.
Cooper plastic surgeons are available to consult with men and women about a wide variety of cosmetic options. Our board-certified doctors utilize the latest medical knowledge and technology in their aesthetic procedures. Among the options available to you are the following:
Rhinoplasty (nasal surgery)
Rhytidectomy (face lift)
Blepharoplasty (eyelid lifts)
Dermabrasion (facial sanding)
Chemical peel (wrinkle reduction)
Otoplasty (reconstruction of the ears)
Mentoplasty (chin augmentation)
Other optional procedures available to enhance appearance include:
Abdominoplasty ("tummy tucks")
Mammoplasty (breast augmentation or reduction)
Mastopexy (breast lift)
Liposuction (removal of fat deposits)
Cleft lip and cleft palate repair
You can depend on Cooper's expert staff to discuss frankly and sensitively the many cosmetic surgery options available today.
Non-Surgical Aesthetic Treatment
We also offer a wide selection of non-surgical procedures to enhance personal appearance, remove wrinkles, and create a more youthful demeanor. These treatments include:
Spider vein injections
Collagen injections
Botox® injections
Laser skin resurfacing
Chemical peels
Cooper's experienced staff aesthetician also offers a variety of skin procedures. These include:
Facials
"Body facials"
Post-surgical makeup consultation
Waxing
A Word About Financial Arrangements
Cooper Plastic Surgery Associates accepts most HMOs and insurance programs. However, in many cases, office visits are not covered by health care plans, so patients are responsible for physician fees at the time of their appointment. Any balances not covered by insurance that are billed to the individual become his or her responsibility. Cosmetic surgery is generally not covered by insurance. Fees for these procedures must be paid in advance.
Cooper University Health Care is committed to providing the people of southern New Jersey with quality care. In cases of financial hardship, Cooper will work with patients in an effort to arrive at a satisfactory solution.
For an appointment with a Cooper plastic surgeon, please call 800.8.COOPER (800.826.6737).