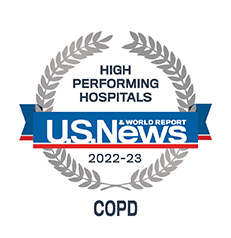 Pulmonary Medicine specialists at Cooper treat disorders of the lung including chronic diseases such as emphysema and asthma, and acute pulmonary problems such as pneumonia. Interventional Pulmonology is a specialized area of pulmonary medicine whereby pulmonologists use advanced tools and techniques to diagnosis and treat diseases of the lungs and chest. Cooper interventional pulmonologists are also an essential component of MD Anderson Cancer Center at Cooper Lung Cancer Center team. We collaborate with our colleagues in oncology, thoracic surgery, medical oncology, pathology, radiology and other medical specialties to provide you with a comprehensive evaluation and individualized treatment plan – for the best possible outcomes.
Together, our pulmonologists and interventional pulmonologists care for patients with:
Asthma.
Lung cancer (primary and metastatic disease).
Emphysema.
Chronic obstructive pulmonary disease (COPD).
Chronic cough.
Dyspnea/shortness of breath.
Interstitial lung disease (scarring of the lungs).
Upper airway disorders.
Foreign bodies requiring removal.
Sleep apnea and sleep disorders.
Other medical conditions that affect the lungs and breathing.
Tests performed by our team include:
Bronchoscopy – the process of looking at the lungs though a specialized scope.
Pleuroscopy – a procedure to examine the space between the lungs and chest wall and obtain a tissue sample through a small incision.
Pulmonary Function Testing – a series of tests to see how well the lungs are functioning.
Thoracentesis – a treatment to relieve an excess build-up of fluid in the chest cavity.
Trans-tracheal oxygen therapy – to deliver oxygen directly into the lungs through a small, flexible catheter that passes from the neck into the trachea or windpipe.
Comprehensive Care for Breathing Difficulties
Breathing happens without much thought, but when you have trouble breathing it's difficult to think about much else. Shortness of breath can come on suddenly in a matter of minutes or hours, or chronically over days, weeks, months – or even years – and can be a symptom of myriad conditions. Identifying the underlying cause isn't always clear cut. To aid in this process and speed the time to treatment, the Cooper Breathing Center offers a one-stop multidisciplinary resource for accurate, timely diagnosis and treatment planning.
Our expertise in pulmonary and critical care medicine continues Cooper's longstanding tradition of delivering exceptional patient care by using innovative techniques, cutting-edge diagnostic tools and minimally invasive procedures. This has enabled our pulmonologists to establish a regional reputation for excellence and life-saving care that helps each of our patients breathe a little easier. There are many different reasons why patients experience shortness of breath including lung disease, heart and vascular disease, obesity, allergies, anxiety and more. Once a cause is identified and properly treated, many patients substantially improve or eliminate their symptoms altogether.
Contact Us
For an appointment with a pulmonary medicine specialist at Cooper, please call 800.8.COOPER (800.826.6737).