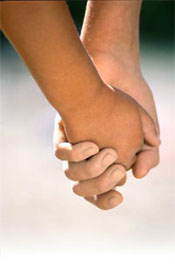 Since October 1983, the Ronald McDonald House of Southern New Jersey has provided a home away from home to more than 13,000 families from the 7 southern counties of New Jersey and beyond, 35 other states and 20 foreign countries during what may be the most stressful time in their lives. The house originally opened its doors in a twin Victorian home on 6th Street in Camden With the help of Cooper Hospital, local McDonald's restaurants and the Builder's League of South Jersey this 100 year-old home was renovated to contain 12 bedrooms and common living, dining, kitchen and laundry rooms for families whose children were being treated at area hospitals for critical illnesses and traumatic injuries.
In November 1998, a newly built, 26,000 square foot, four story home was opened to accommodate 20 families with private bathrooms, handicap accessibility and larger common spaces. The facility is also able to help day guests who just need a break during a long day at the hospital between medical treatments or tests.

With a small paid staff and the help of hundreds of volunteers, the Ronald McDonald House of Southern New Jersey is serves about 600 families each year. Some stay only a few days and others may stay for several months. Some come only once and others must return several times a year because their child has a chronic illness. These children may be premature infants, have been involved in a bike or automobile accident, have cancer, cystic fibrosis, heart or lung problems, asthma, cleft palates or many other serious problems. But the Ronald House gives their families the common bond of shared experience and ability to rest and regain strength to care for their children.
Available Services
When you are far from home, your child is in the hospital, and you have not had anything to eat the entire day, the last thought you should worry about is where am I going to stay tonight. Ronald McDonald House of SNJ strives to support these families with a safe haven from the hospital hall.
Private Bedrooms — Up to 4 people may stay in a room in the House. All rooms have a private bathroom and phone. Handicap-accessible rooms are also available.
Daily Meals — Generous community groups provide many meals that are served in our central dining room. families may also select and prepare their own food from our well stocked pantry.
Laundry Facilities — Residents may take advantage of two laundry rooms.
Activities for Children — They can enjoy inside and outside play areas, craft projects, games, movies, and weekly visits from our therapy dogs, Yahtzee and Kelby.
Staying at the Ronald McDonald House
Families of children through age 21 who are receiving treatment at Southern New Jersey and Philadelphia area hospitals and live outside the local area are eligible to stay at Ronald McDonald House of SNJ. Initial referrals for reservations must be received from either a social worker, nurse or physician from the referring hospital.
Families are asked to contribute $15 per night per family. If they are unable make that contribution, the donation is reduced or waived. No family is turned away due to inability to make a contribution. This is possible in part because of the Share a Night Program. The support of thousands of generous individuals, organizations and businesses is needed to meet the expense of helping these families.
For More Information About the Ronald McDonald House
Visit the Ronald McDonald House of SNJ Web site at www.ronaldhouse-snj.org, call 856.966.4663, or email info@ronaldhouse-snj.org.