Vertical sleeve gastrectomy (VSG) is a weight-loss surgery that reduces the size of the stomach and restricts the amount of food a person can eat. Fellowship-trained surgeons at our Bariatric and Metabolic Surgery Center have performed hundreds of these procedures. VSG has changed the lives of many people who were unable to reach a healthy weight through nonsurgical methods.
Our surgeons use minimally invasive laparoscopic techniques whenever possible. As a result, patients recover faster and have reduced scarring after surgery.
What Is Vertical Sleeve Gastrectomy?
VSG is a procedure in which doctors remove a large portion of the stomach. People typically lose 50 to 60 percent of their excess weight within two to five years after surgery.
Because VSG greatly reduces stomach size, you will need to eat smaller meals. The surgery does not change the way your body processes food, meaning the digestive tract still absorbs all calories and nutrients. However, creating a smaller stomach does help regulate ghrelin, an appetite-stimulating hormone, which may reduce hunger.
To perform this surgery, one of our highly skilled surgeons:
Removes 85 percent or more of the stomach
Leaves the sphincters (the muscles that help move food in and out of the stomach) in place
Creates a new stomach in the shape of a tube out of the remaining section of stomach
The surgery takes about 1.5 to 3.5 hours, and patients can expect an overnight stay in the hospital. The procedure cannot be reversed.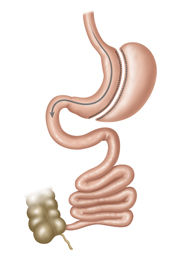 A Minimally Invasive Approach
Our surgeons use laparoscopy, a minimally invasive surgical technique, in nearly all patients undergoing VSG to reduce the risk of complications. To perform laparoscopic surgery, doctors make several small incisions in the abdomen, rather than the large incision used in open surgery. These small incisions provide access for surgical tools, including a laparoscope, a thin tube with a small camera to view the procedure.
Minimally invasive surgery promotes:
Faster healing
Faster return to normal activities
Less scarring
Lower risk of surgical complications
Contact Us
To learn more about bariatric and metabolic surgery at Cooper or to schedule an appointment, please call 856.673.4500 or join us for a free weight-loss surgery informational seminar.
Refer a Patient
If you are a doctor who wants to refer a patient to Cooper, please call 856.673.4500.