For more information on the WATCHMAN™ procedure, please call 856.968.7812.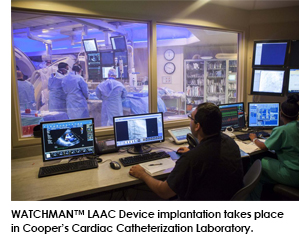 Atrial fibrillation (AFib) is the most common cardiac arrhythmia (irregular heart beat), affecting millions of Americans.
AFib is an irregular heartbeat that can lead to blood clots, stroke, heart failure and other heart-related complications. Patients with non-valvular AFib have a five times higher risk of stroke due to blood stagnating and clotting in the improperly beating part of the heart called the atrium. Twenty percent of all strokes occur in patients with AFib, and AFib-related strokes are more frequently disabling or even fatal.
The most common treatment for stroke risk reduction in patients with AFib is the blood-thinner warfarin. Despite its proven efficacy, long-term warfarin therapy is not well-tolerated by some patients and carries a significant risk for bleeding complications.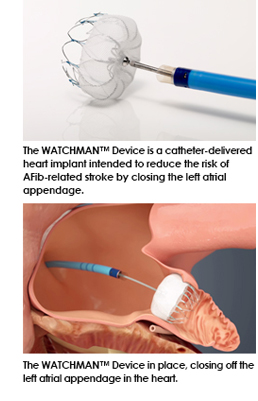 However, a new device has come to market called the WATCHMAN™ Left Atrial Appendage Closure (LAAC) Device. This device is a first-of-its-kind, proven alternative to long-term warfarin therapy in patients with non-valvular atrial fibrillation. The WATCHMAN™ Device is intended to prevent the migration of blood clots that form in the left atrial appendage (LAA) that cause stroke in AFib patients. The LAA is a thin, sack-like appendix attached to the left side of the heart and is believed to be the source of the majority of stroke-causing blood clots.
The WATCHMAN™ LAAC Device offers a new stroke risk reduction option for patients with non-valvular atrial fibrillation who are seeking an alternative to long-term warfarin therapy. The WATCHMAN LAAC Device is a catheter-delivered, minimally invasive heart implant designed to close the left atrial appendage without interfering with the left atrium and thus reduce the risk of blood clotting and stroke for higher-risk patients. Worldwide this device has been implanted more than 10,000 times.
The Structural Heart Disease Program at Cardiac Partners offers the WATCHMAN™ device to patients who cannot tolerate long-term warfarin therapy and have non-valvular AFib. Cooper was the first hospital on the East Coast to implant the early-generation WATCHMAN device as part of a pilot study in the early 2000s. Since its FDA approval in 2015, the physicians at Cardiac Partners were the first in the region to perform the procedure using the newly approved device. Cardiac Partners offers a variety of interventional and non-interventional treatment options with atrial fibrillation including medication as well as device options.