Academic-level, safe, and compassionate support for patients struggling with substance use disorder (SUD), pain, trauma, and psychiatric disorders
The Cooper Center for Healing is an integrated center that provides innovative, compassionate care for patients with SUD, pain, trauma, and psychiatric disorders. The center's medical specialists in addiction medicine, toxicology, emergency medicine (EM) and emergency medical services (EMS), internal medicine, family medicine, and psychiatry provide interdisciplinary specialty care in the hospital, ambulatory, and community settings. The center also has a robust interdisciplinary clinical team of behavioral health clinicians, nurses, and navigator specialists who offer wraparound services to patients in a biopsychosocial model, including helping them to address social determinants of health (SDOH).
Patient services include but are not limited to:
Inpatient SUD consultation
Outpatient SUD consultation
Empowering Mothers to Parent and Overcome with Resilience (EMPOWR) for pregnant and parenting women struggling with substance use and SUD
Full coverage services for SUD and mental health for uninsured and underinsured people, including people experiencing undocumentation
The Recovery Village Cherry Hill at Cooper is a 90-bed state-of-the-art inpatient SUD treatment facility offering all levels of addiction care in an integrated model. The center's physicians, advanced practice nurses, and physician assistants provide the medical care at this facility and help to drive quality, evidence-based care, and education in the inpatient SUD treatment model.
Academically, the center provides medical education at both the undergraduate and graduate levels and conducts an American College of Graduate Medical Education (ACGME)-accredited Addiction Medicine Fellowship Program. The Center for Healing is also recognized by the State of New Jersey as a Medication for Addiction Treatment (MAT) Center of Excellence for SUD.
The center's work focuses on ensuring that all patients across the Cooper system with pain, psychiatric illness, chemical dependence and/or SUD receive state-of-the-art care, and that the entire system works together to identify patients at risk, mitigate risk exposure, and prevent the development of SUD whenever possible. They do this through education, innovation, and dedication to providing excellent patient care services to the community.
The Center for Healing also offers health promotion and health communication resources on topics including and not limited to harm reduction strategies and mental health support for pregnant and parenting women struggling with substance use and SUD. Resources are available online and in clinical settings for patients, families, and communities. A selection of materials are published on our website under "Related Resources."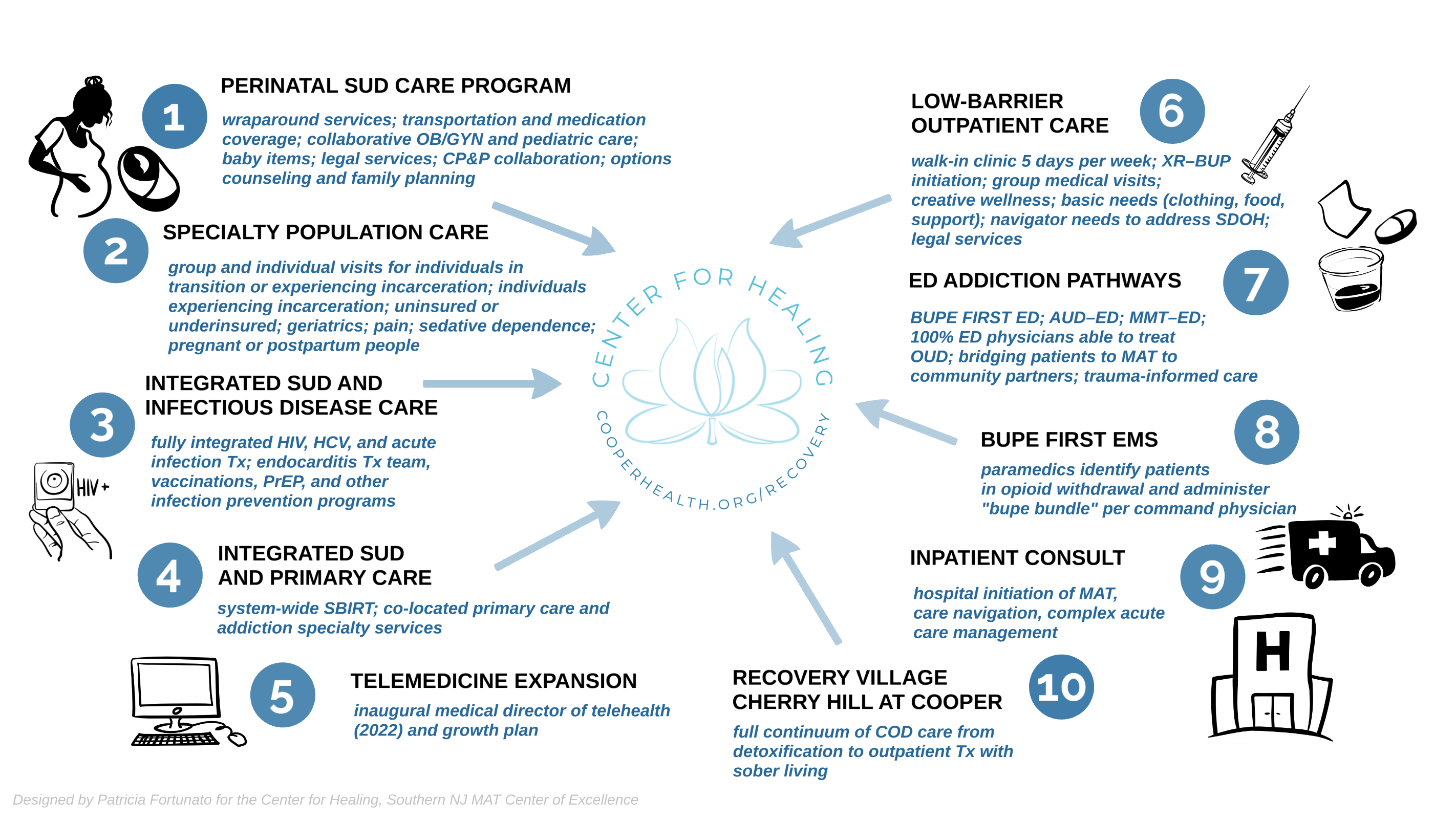 Infographic of Center for Healing clinical services created by Patricia Fortunato with design for the Southern NJ MAT Center of Excellence
Click here to enlarge the above infographic.