Helping Our Heroes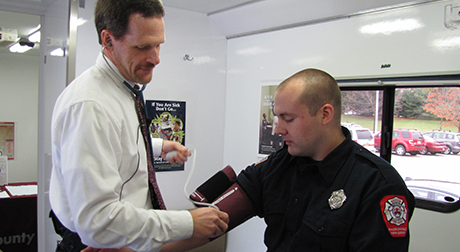 Statistics show that 47 percent of on-duty firefighter deaths are cardiac-related. To fight this alarming statistic and keep local first responders healthy, Cooper University Health Care and the Camden County Board of Freeholders have teamed up to offer Helping Our Heroes, a preventative screening program.
The public-private partnership provides the more than 2,800 emergency responders in Camden County with convenient access to preventative health screenings that help identify potentially life-threatening diseases, such as hypertension. Services part of the comprehensive cardiovascular health exam and risk assessment include physicals, cardiovascular and pulmonary screenings, EKG, blood tests, and urinalysis. Resources on healthy eating, weight management, smoking cessation, educational seminars, and referrals to specialists are also available through the program.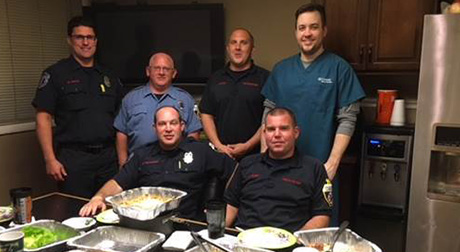 Cooper's Community Health registered nurses, physicians, and phlebotomists administer the voluntary program at sites throughout the county, including local firehouses, EMS stations, and Cooper medical offices. Should the first responder require additional services or treatment, he or she has the option to select the provider and facility of his or her choice.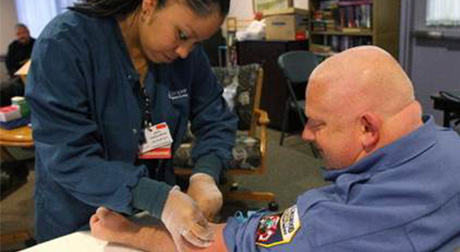 Helping our Heroes is a voluntary program available to all fire agencies and non-profit EMS organizations in Camden County. It is not intended to replace pre-employment or annual physicals required to determine fitness of duty.
Insurance is not required for Helping Our Heroes; however, standard payment and insurance policies do apply. Cooper University Health Care accepts a number of major health care plans, including those found here. Individuals should check with their health plans on details of coverage to avoid incurring out-of-pocket expenses. First responders who wish to pay out of pocket for the assessment can do so for a fee of $375.