The endocrinology experts at Cooper specialize in the diagnosis and treatment of hormone-related (endocrine system) disorders. Our board-certified endocrinologists combine professional expertise with leading-edge technology to deliver compassionate care and improve the lives of people with these conditions.
Because endocrine disorders can contribute to an enormous range of illnesses, affecting virtually every organ system of the body, you will be under the care of a multidisciplinary team – endocrinologists, nurse educators, and nutritionists – in collaboration with other specialties as necessary, including clinical pharmacology, surgery, ophthalmology, podiatry, radiology and nuclear medicine.
We believe in a comprehensive approach to care. As part of that approach, our services emphasize education and prevention in addition to innovative diagnostics and treatment so you can better manage your illness and go on enjoying your life.
Endocrine Disorders We Treat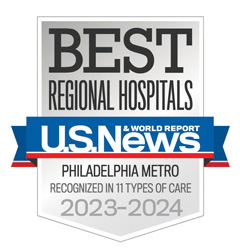 At Cooper, our specialists have advanced education and training in endocrinology and devote their entire practice to improving the health of patients with hormonal disorders such as:
Diabetes, type 1, type 2 and gestational
Thyroid diseases
Pituitary disorders
Adrenal disorders
Calcium and vitamin D disorders
Male and female reproductive disorders
Endocrinology Services
As a patient of Cooper Endocrinology, you will have access to the following services should you need them:
Diabetes education,  including nutrition counseling
Ultrasound-guided thyroid biopsy
Insulin pump therapy
Continuous glucose monitoring
Radioactive iodine treatment of hyperthyroidism and thyroid cancer
Gamma Knife radiosurgery of pituitary tumors
For an appointment with a Cooper endocrinologist, please call 800.8.COOPER (800.826.6737).