Comprehensive Musculoskeletal Care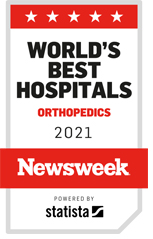 As South Jersey's premier academic musculoskeletal center, the Cooper Bone and Joint Institute offers you the full continuum of high-quality orthopaedic care with the latest technological advances.
Our integrated team includes fellowship-trained and board-certified experts in orthopaedics, rheumatology, podiatry, and rehabilitation for arthritis pain, sprains and strains, tendon or ligament injury, tendonitis, broken bones, dislocations, and more. From the prevention and diagnosis of degenerative joint disease or injury, to the latest surgical and non-surgical treatments and rehabilitation, you can expect to receive comprehensive, world-class musculoskeletal care in one of our eight convenient locations.
Premier Certification for Geriatric Fracture Care

Cooper Bone and Joint Institute has achieved Premier Certification Status for Geriatric Fracture Care from the International Geriatric Fracture Society (IGFS). This makes Cooper the first hospital in New Jersey to achieve this highest level of certification for its geriatric fracture care programs as recognized by the IGFS CORE Certification Program. The CORE Certification Program is a global quality improvement initiative designed to recognize the achievements of programs that exceed outcome benchmarks in the management of geriatric fractures. In receiving this recognition Cooper, has exceeded benchmarks on key quality indicators over the past year as identified by the IGFS.
Expert Care for Sports Teams
The Cooper Bone and Joint Institute recently became the official team physicians for Rowan University Athletics. Our physicians work hand in hand with Rowan's certified athletic trainers for diagnosis, treatment and rehabilitation to get their injured athletes back in action as quickly and safely as possible. Read more about our Sports Medicine program and many other team affiliations.
For an appointment with a Cooper Bone and Joint specialist, please call 800.8.COOPER (800.826.6737).