What Is Process Improvement?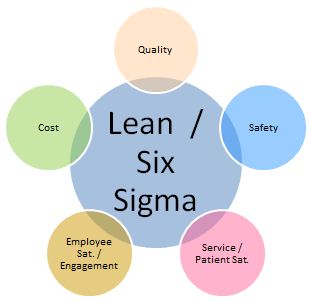 Process Improvement is a systematic approach to problem solving related to the assessment, analysis and improvement of organizational processes.
What Is Lean Six Sigma?
Lean Six Sigma is an improvement methodology that focuses on continuously improving all of the processes within an organization in the ultimate pursuit of perfection. It provides a framework to reduce variation and strives to eliminate waste.
How Is Lean Six Sigma Used at Cooper?
Lean Six Sigma is the primary process improvement methodology used here at Cooper University Health Care. At Cooper, we apply Lean Six Sigma to improve all areas of operations. This balanced improvement approach strives to improve our key pillars of Quality, Safety, Patient Satisfaction, Employee Satisfaction and Cost. We have used this methodology to reduce length of stay, improve quality outcomes, and enhance the patient and employee experience.
Team-Based Approach
The practice of Lean Six Sigma is a team-based approach, performed by all areas of our organization, including physicians, nurses, administration, support personnel, medical residents and our medical students.
Dedicated Staff
We have a dedicated Process Improvement team that provides training and guidance to our developing Lean Six Sigma Green Belts and Change Agents. The Process Improvement team also helps to facilitate the completion of Lean Six Sigma projects, Rapid Process Improvements (RPIs), Workouts and Kaizen events.