Confused by your insurance benefits?
Cooper benefits consultants can help.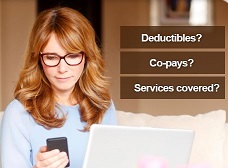 Cooper University Health Care is pleased to offer a new service to assist patients, family members, and caregivers in understanding their insurance coverage as it relates to services provided within the Cooper network.
We understand the complexities of health insurance and want to make sure our patients do not avoid necessary exams and procedures based on unclear or misunderstood financial obligations. 
Cooper Benefits Consultants provide access to friendly and informed staff that are available to answer your questions about health insurance coverage including:
Benefits provided by your plan.
What services/procedures are covered by your plan.
Co-pays you may incur.
What out-of-pocket expenses will be incurred after deductibles are met.
If you currently do not have insurance, our Cooper Benefits Consultants can connect you to a financial counselor.
Cooper Benefits Consultants are also Certified Application Counselors through the Affordable Care Act Marketplace who can also assist callers in selecting the best insurance plan through the Marketplace Exchange to meet their healthcare and financial needs. Our consultants can help you with:
Cost sharing and tax credit questions.
Navigating through the HealthCare.gov website.
Enrolling in coverage over the telephone.
Call 1.800.8.COOPER (1.800.826.6737) and press option #2.
Monday through Friday
8 a.m. to 4:30 p.m.
Calling after hours? Leave your name, phone number, and the best time and number to reach you and we will return your call, ready to assist.
Helpful Tips:
Have your insurance card ready.
Have any paperwork available as it relates to procedures or tests that your doctor has ordered.