Cooper Patients Outside of the Hospital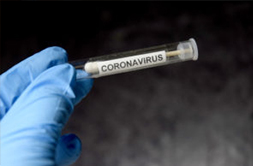 Cooper University Health Care is operating an appointment-only collection center for COVID-19 testing at 1889 Marlton Pike East in Cherry Hill (the corner of Springdale Road and Rte 70 at Camden County College).
The collection site is open to Cooper patients who have symptoms or meet other criteria, and who receive an order from a Cooper provider for testing. Cooper patients with a doctor's order will be scheduled for an appointment to visit the collection site and be given instructions about the process for collecting specimens.
No patient specimen will be collected without pre-registration and a Cooper provider's order. If you are experiencing a fever and/or any respiratory symptoms such as shortness of breath or cough, please call your primary care physician for further instructions.
To schedule an appointment with a Cooper primary care provider, call 800.826.6737 or request an appointment online.
Inpatients at Cooper University Hospital in Camden
Cooper is conducting COVID-19 testing in the hospital for currently hospitalized patients only.  
Camden County First Responders and Cooper Employees
Cooper University Health Care has two COVID-19 testing sites for Camden County law enforcement and first responders from all levels of government based in and around Camden.
Testing for all levels of law enforcement and Cooper employees, is accessible via the Benson Street entrance to the CCIA Parking Garage (entry via Benson Street on Haddon Ave) on the Cooper Health Sciences Campus in Camden. It is open for drive-thru only appointments weekdays from 10 a.m. to 2:30 p.m.
Testing is open by appointment to those who have symptoms and meet other criteria (including exposure), and who have received a referral for testing from a medical provider. To schedule an appointment, first responders should call 856.968.7100 or 856.342.2881 (Monday through Friday, 8 a.m. to 5 p.m.).
Camden County Residents
For information on testing sites in the city of Camden as well as in other towns in Camden County, please call the free, 24-hour Camden County COVID information hotline at 1-800-222-1222.
Burlington County Residents
For more information, please visit the Burlington County website.
Gloucester County Residents
Gloucester County offers drive-thru style COVID-19 testing on specific dates for Gloucester County residents only. Please visit the Gloucester County website for more information on dates, times, locations, and eligibility.