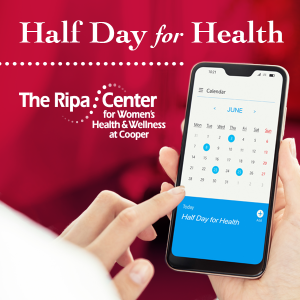 Your Health on Your Time
Have you had time for your annual health appointments yet? If not, now is a great time to schedule a Half Day for Health at The Ripa Center. This unique offering allows you to schedule all of these services in one visit, which takes approximately three hours.
The Half Day for Health includes:
Primary care appointment, also known as your annual check-up or "well visit."'
Gynecologic check-up appointment with an OB/GYN physician.
Mammogram and/or DEXA bone-density scan, if needed.
Skip the hassle of making three separate calls to make thee separate appointments with three separate providers in three separate locations and, instead, get everything done at once. Pretty great, right?!
Schedule An Appointment Today
To schedule an appointment, call 856.673.4912 or use our online appointment form.