A resource for new Cooper employees
To serve, to heal, to educate
Our vision: we will be the best place to be a patient, the best place to work, and the best place to learn and practice medicine.
Welcome to Cooper! You've joined an award-winning team of skilled and compassionate professionals who deliver the highest level of service and care to our patients, the community, and each other.
Click the Your Roadmap menu on the right to gather detailed information about what to expect and how to prepare for your first days on the job.
One Team. One Purpose.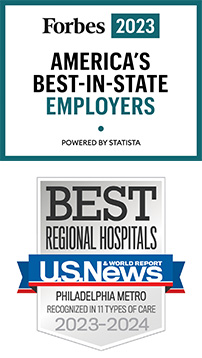 Cooper University Health Care has been awarded America's Best Employers by Forbes magazine, one of only 12 health care providers  in New Jersey to make the 2023 list.
Did you know that Cooper is ranked as a Top-10 Hospital in the region?  U.S. News & World Report 2023-2024 named Cooper among one of the top-10 hospitals in both the Philadelphia Metro area and in New Jersey, and a top performer nationally in 11 specialty services.
Team Member Experience
We pay attention to your experience. Cooper is committed to creating an outstanding work environment by ensuring:
competitive compensation
comprehensive medical benefits
wellness and work/life programs
safe working conditions as part of our High Reliability culture
a family-like atmosphere with strong teamwork and shared purpose
professional and career development opportunities
employee recognition programs and lots of Cooper swag
convenient concierge service and discount programs
secure onsite parking, convenient campus shuttles, and nearby public transit
This all adds up to Cooper being an excellent place to build your long-term career and thrive on a day-to-day basis.
Diversity Commitment
At Cooper, we respect each other, value differences, and promote a sense of belonging for all. Inclusion is fundamental to the way we work and interact with each other. 
Cooper Values
Compassion: We are caring, kind, and empathetic taking action to relieve the suffering of others.

Inclusion: We respect others, value differences, and promote a sense of belonging for all.

Excellence: We are honest, professional, active, accountable, innovative, and passionate about quality.