Our Cooper Nursing Philosophy, Vision Statement, Professional Practice Model and Theory, and our Shared Governance Council Structure collectively comprise our overarching Professional Nursing Infrastructure. These components were redeveloped thanks to the tireless efforts of our nurses, nurse educators, advanced practice nurses, and nurse leaders.
Our Nursing Vision
In alignment with our organizational mission, "To serve, to heal, to educate," Cooper University Health Care nurses will lead the region in the advancement of professional and scholarly nursing practice. We will exceed all standards of excellence through the delivery of evidence-based care and clinical innovation.
Our Nursing Philosophy
We Believe:
Our nurses provide evidence –based care to a diverse and complex patient population.
Our nursing community demonstrates clinical expertise resulting in optimal patient outcomes through social integrity, teamwork, and collaboration.
Our nurses value an inter-professional process to create a healthy patient and family-centered environment.
Self-care, defined as physical, mental, and emotional well-being, nourishes resilience to provide compassionate care and foster positive and trusting relationships.
Our nurses are fiscally competent stewards of health care resources.
Cooper Nursing C.A.R.E.S. Professional Practice Model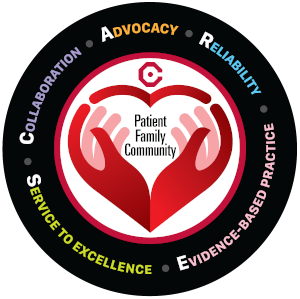 (Collaboration Advocacy Reliability Evidence-based practice Service)
Tenants comprising our Professional Practice Model:
Collaboration: Promote inter-professional communication and coordinator of patient/family-centered care.
Advocacy: Empower patients, caregivers, communities and colleagues to ensure culturally competent and compassionate care.
Reliability: To provide highly-reliable care delivery thought dedication, insight, and a continuous commitment to quality improvement.
Evidence-Based Practice: Integrate clinical expertise, scientific findings, and patient preference to improve patient outcomes.
Service to Excellence: Foster self-directed practice through critical thinking and accountability. To commit to personal, clinical, and scholarly growth to optimize patient experience delivering on the Cooper promise to serve, heal, and educate.
Swanson's Caring Theory is the middle range nursing theory that has been chosen to provide the frame-work that will guide and inspire the ongoing development of our inter-professional care delivery model.
The essence of this model will serve to ensure that the science of caring is successfully integrated into the relationships we develop with our patients, their families, and each other.
Nursing Shared Governance Council Structure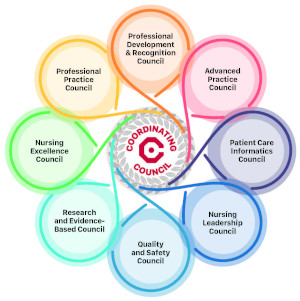 An important aspect of the resulting work of our Journey to Nursing Excellence is the creation of an updated nursing shared-governance model to align the mission, vision, philosophy, and goals of Cooper nursing.
A shared-governance graphic was created to represent the eight nursing councils at Cooper and each council's stake in the process. The graphic symbolizes how each council and council member supports the whole.
Coordinating Council
To serve as the governing body for the over-all group of councils that comprise the Nursing Shared Governance Model for Cooper University This council provides leadership, support and guidance to all Nursing Councils and serves to ensures successful inter-collaboration between all Cooper Nursing Councils.
Professional Development & Professional Recognition Council
To define, develop, operationalize and maintain efforts that serve to support the continual growth and development of our nurses while providing interventions that recognize and reward the professional achievements of our nurses in a manner that is meaningful and equitable.
Nursing Practice Council
To maintain consistent alignment between Cooper Nursing practice standards and the most current evidence-based practice recommendations, guidelines, and regulatory standards. Serves to ensure that all Cooper Nursing Policies directly reflect current bedside practices.
Nurse Quality & Safety Council
To provide a system that continually assess and evaluates the inter-professional efforts that enable Cooper University Nurses to provide safe, high quality care to all patients while maintaining alignment with all regulatory guidelines and standards of clinical excellence.
Nursing Research & Evidence–Based Council
To support ongoing efforts that will encourage and facilitate nursing research as well as projects that will serve to the translate nursing research into practice through Evidence Based Decision Making efforts that result in the implementation of Evidence –Based Practice initiatives.
Advance Practice Council
To provide clinical leadership and practice guidance through education, collaboration, peer review. This council promotes opportunities that enhance the professional growth and development of our advanced practice nurses through every stage of practice from novice through experienced. This council will provide the foundation for advanced practice nurses to identify, develop, and implement opportunities to leverage their knowledge, experience, expertise, as clinical leaders to support and nurture the ongoing development of their APN peers as well as our direct care nurses.
Clinical Informatics Council
To provide ongoing leaderships and expertise related to the development and implementation of information technologies and electronic solutions designed to support excellence in patient care and nursing practice. This council serves to provide structure and support to nurses and members of the inter-professional care team that interface with and are impacted by information technology during their daily work routine.
Clinical Excellence Council
To provide a forum for direct care nurses and nursing leaders share their thoughts and ideals as they collaborate to support the identification, creation, and implementation of efforts to create and sustain a healthy work environment that will empower nurses of all experience, educational, and practice levels to actively and successfully contribute our overarching goal of becoming center for nursing excellence.
Nursing Leadership Council
To foster an environment that supports excellence in nursing through the ongoing development of authentic and transformational serving leaders. This council will provide an environment for current and future nursing leaders to attain and develop the necessary acumen to lead successful change and influence nursing culture. This council will also educate and enhance the ability of our leaders to inspire, encourage, and empower our nurses to be courageous, take initiative, lead innovation. Through continued leadership development opportunities, our Cooper Nursing Leaders will empower our nurses to establish and sustain a successful self-governing nursing program that supports our pursuit of clinical excellence while enabling our nursing division to achieve high quality outcomes for patients cared for across all continuums of care.
Unit Based Council
To provide a formalize structure at the unit level that empowers nurses to identify opportunities and solution based interventions that will enhance and improve nursing practice within their clinical unit. The council will elect worthy peers to serve as co-chairs that will guide and support the ongoing functions of the UBC in a manner that ensures its sustainability and success.