Patient eGreetings is a service of Cooper University Hospital that allows you to send a greeting to a friend or loved one who is currently a patient at Cooper. Let your loved ones know you are thinking about them - send them an eGreeting!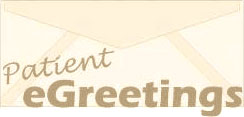 This service is free and available for any inpatient currently at Cooper University Hospital in Camden, New Jersey. Just complete the form below and click the "Send eGreeting" button to send your message. A member of our Volunteer department will print and hand-deliver your message to your family member or friend.
Messages received before 10 a.m., Monday through Friday, will be delivered that day. Messages received after 10 a.m. or received on weekends or holidays will be delivered on the next business day.
Please make sure you include the patient's correct first and last name when you are filling out the form below so that our volunteers can ensure your eGreeting is delivered to the correct individual. We cannot forward e-mails received after a patient is discharged or if the patient has requested that his or her presence in the hospital remains confidential.
Please be aware that Cooper University Hospital Volunteers and Volunteer Staff will see your message when they print and deliver it. For that reason, we ask that you refrain from sending confidential, obscene, or otherwise inappropriate messages.