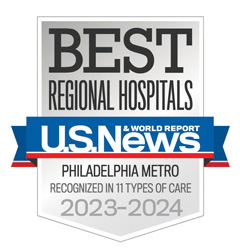 Do you have a friend or loved one with an aortic aneurysm? The Aortic Center at Cooper University Health Care is one of the region's top programs treating diseases and conditions that attack the body's arterial system. 
Our team of vascular experts are internationally renowned leaders in the field, developing new treatments and technologies for superior patient care. As the region's leading academic health system, Cooper offers patients the latest new devices and access to groundbreaking clinical trials.
The Cooper Aortic Center provides state-of-the-art treatment for the following conditions:
Complex aortic repair
Arch aneurysms
Aortic disease poses significant health risks because when an aneurysm or dissection bursts or tears, severe internal bleeding and shock can occur. Blood clots can also break off traveling to other organs in the body, cutting off oxygen and restricting blood flow, resulting in loss of life or limb.
South Jersey's Expert Aortic Team Saving Lives
Cooper Aortic Center is staffed by the only multidisciplinary team in southern New Jersey committed to the care and treatment of aortic disease. Patients of the Cooper Aortic Center have access to the region's best physicians and clinicians dedicated to providing expert care in a compassionate, patient-focused environment.
Cooper's vascular and cardiothoracic surgeons are leaders in the endovascular repair of aortic disease and are renowned for their ability to perform complex open surgical procedures. The physicians and staff of the Cooper Aortic Center work closely with each patient to identify the best treatment options for their disease and lifestyle.
Cooper's Vascular Diagnostic Centers - The Area's Most Advanced Vascular Labs
Cooper's Vascular Diagnostic Centers are conveniently located, staffed with registered vascular technologists, and offer fast and convenient scheduling. Vascular tests include:
Peripheral arterial imaging
Venous ultrasound
Abdominal aortic evaluations
Visceral vascular evaluations
Cerebrovascular (extra/intracranial)
Vein mapping (pre-op evaluation)
Aortic procedures are performed in South Jersey's first hybrid operating room (OR), a state-of-the-art surgical suite. Cooper's hybrid OR is designed specifically for vascular and cardiothoracic patients, combining cutting-edge surgical technology with the most sophisticated imaging capabilities.
Patients treated in the hybrid OR experience:
Shorter procedure times
Less radiation exposure
Reduced need for ICU care
Less risk of infection
Shorter hospital stays
Faster recovery
Risk Factors for Aortic Disease
Family history
Heart disease
Hardening of the arteries (atherosclerosis)
Uncontrolled high blood pressure (hypertension)
Infections
Trauma to the chest
Cocaine
Smoking
Obesity
Long periods of sitting or standing still
Any condition that affects the heart and blood vessels, such as diabetes or high cholesterol
Connective tissue disorders including Marfan syndrome or Ehlers-Danlos syndrome