Education and Training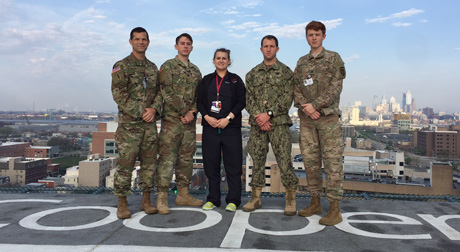 Cooper University Health Care serves as a training ground for the nation's elite military units and highest branches of government as well as local and statewide police, fire, and EMS personnel.
Military
Special Operations Combat Medic (SOCM) Course
Cooper University Hospital is one of only four hospitals in the nation to provide clinical training to the elite Special Operations Combat Medics (SOCM) from the U.S. Military's Special Operations Command, including: U.S. Army Special Forces and Rangers, Navy SEALS, and Marine Recon, among others.
As SOCMs serve a unique and crucial role in the field, they must possess skills needed for acute medical/trauma care for their team. Cooper provides the last stage of SOCM training – the clinical rotation – which ensures graduates have the vital skills and confidence to perform critical field work in extreme environments or circumstances until medical care arrives.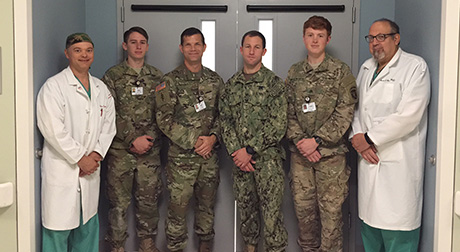 SOCM trains and qualifies selected enlisted military members to manage a multi-system trauma patient for up to 72 hours prior to medical evacuation and provide basic medical care to Special Operations team members. During the clinical rotation, students collaborate with health care professionals, observe hospital/EMS systems, and perform procedures within the SOCM Scope of Practice with preceptor/physician approval.
The high-level troops receive "front line" training for battlefield trauma as well as helping civilians.
SOCMs rotate through the following departments:
Adult and Pediatric Emergency Departments
EMS
Intensive Care Unit
Labor and Delivery
Operating Room/Anesthesiology
Level I Trauma Center
Orthopaedic Trauma
U.S. Airforce Pararescue Training Program
Cooper is proud to serve as only one of three hospitals nationwide, and the primary location for an eight-week clinical and field internship for U.S. Air Force Pararescue special operations providers.
The U.S. Air Force Pararescue is the only U.S. State Department of Defense elite combat force that is organized, trained, and equipped to conduct full-spectrum personnel recovery in conventional and unconventional combat rescue operations. As such, extensive training in emergency treatment is essential.
Through this specialized program, Para Jumper (PJ) trainees collaborate with Cooper University Health Care professionals and undergo a clinical and field internship in the emergency department, labor and delivery center, intensive care units, and operating rooms. Trainees learn critical lifesaving emergency procedures, physical assessment skills, medication administration, and patient communication techniques.
Since the program's inception, Cooper has aided in the training of more than 200 students. Recently, this program has expanded to allow for sustainment training for active Air Force Pararescue instructors.
87th Medical Group Training
Cooper provides training to primary care physicians of the 87th Medical Group – an Air Force outpatient medical treatment facility operating on Joint Base McGuire-Dix-Lakehurst (JB-MDL) – with trauma and emergency skill development and sustainment onsite at Cooper.
The 400-member Medical Group is responsible for providing quality care to JB-MDL military members, including family health, flight medicine, pediatrics, and women's health.
On average, the MDG sees 407 outpatient visits per day, as well as 17,000 TRICARE Prime enrollees and more than 42,000 DOD beneficiaries in Central NJ.
Leadership
John Chovanes, DO, FACS, USAR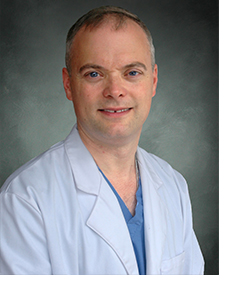 John Chovanes, DO, FACS, USAR, is a Surgeon in the Department of Surgery in the Division of Trauma, Acute Care Surgery, and Surgical Critical Care of Cooper University Hospital in Camden, NJ. Dr. Chovanes has been at Cooper Trauma since 2010 and is the founding Medical Director of Cooper's Section of Military, Diplomatic, and Field Affairs. This section helps conduct intense clinical trauma training for our Nation's elite commando and diplomatic special operations forces. 
Dr. Chovanes completed a double-fellowship in trauma surgery and surgical critical care at the University of Pennsylvania School of Medicine, Philadelphia, PA. He is a graduate of the Philadelphia College of Osteopathic Medicine where he completed his internship and residency in general surgery and served as Chief Intern and Chief Surgical Resident. Prior to his surgical education, Dr. Chovanes was an EMT, paramedic, and registered nurse with various emergency medical units throughout Pennsylvania and New Jersey. Dr. Chovanes was one of the youngest EMTs in the Commonwealth of Pennsylvania, and one of the original flight paramedics with University MedEvac, the first medical evacuation helicopter servicing Pennsylvania and New Jersey. He is a life member of the Volunteer Medical Service Corps of Narberth and Lower Merion, Pennsylvania. 
Dr. Chovanes is a Lieutenant Colonel in the United States Army Reserve Medical Corps. Since joining the reserves in 2001, Dr. Chovanes has completed four tours of duty in support of a variety of U.S. military operations. He served as a military trauma surgeon with the 325th Combat Support Hospital on Contingency Operating Base Speicher in Tikrit, Iraq, in 2007. He has served as both a trauma surgeon and the Deputy Commander of Clinical Services at Forward Operating Base Salerno in Khowst, Afghanistan, in both 2010 and 2012. In 2016, Dr. Chovanes was a trauma surgeon at Camp Manion with the 948th Forward Surgical Team during the Third Battle of Fallujah. Dr. Chovanes has received the Army Commendation Medal for Meritorious Service after successfully removing an unexploded rifle-propelled grenade from a U.S. Soldier. He also received the U.S. Army Soldier's Medal for Heroism after the 2001 World Trade Center attacks for providing field surgical care for a Port Authority of New York and New Jersey police officer trapped in the collapsed basement of the World Trade Center. He was recently awarded a 2017 Veteran of Influence Award by the Philadelphia Business Journal.
Maj. Rory Tippit, MD, PA-C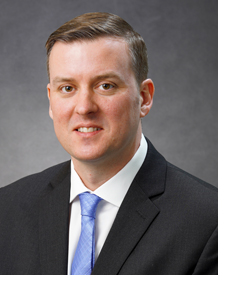 Maj. Rory Tippit, MD, PA-C, is a Physician Assistant in the Department of Surgery in the Division of Trauma of the Military Section at Cooper University Health Care and a full-time Army Major in the New Jersey Army National Guard. He joined Cooper from the Philadelphia Veterans Affairs Medical Center, Emergency Medicine Division, having served a diverse military veteran population. Major Tippit started his health care career in 2001 as a U.S. Army Biomedical Technician, EKG Technician, and U.S. Army Medical Sergeant. He is a 2011 graduate of the U.S. Army Flight Surgeon School and the U.S. Military's rigorous Interservice Physician Assistant Program (IPAP) where he completed his Master of Science Degree. In 2012 he attended the University of Science, Arts, and Technology, Physician Assistant to Medical Doctorate program. Since attaining his Medical Doctorate degree in 2016, he has continued to share his expertise in the training of members of the military at Cooper's Level 1 Trauma Center. These training efforts focus on the transference of knowledge and lessons learned between the U.S. Military and civilian Level 1 Trauma Centers. He currently serves as the Director of Military Training, assisting John Chovanes, DO, (Director of Cooper Military Section) to provide clinical oversight and strategic training program guidance for the various military and government trainees at Cooper University Hospital. Major Tippit serves as the National Stop the Bleed Day Coordinator for the State of New Jersey, American College of Surgeons Committee on Trauma.
As a full-time Army Major in the New Jersey Army National Guard, Major Tippit currently serves in the 21st Weapons of Mass Destruction-Civil Support Team (WMD-CST) unit located on Joint Base McGuire-Dix-Lakehurst, NJ. In this position he serves as the team physician assistant providing advanced pre-hospital medicine and is on call in the event of a manmade or natural disaster within the United States. During his time on the WMD-CST, Major Tippit has been involved in leading and coordinating medical response to multiple large scale multi-agency events such as the United Nations General Assembly, Democratic National Conference, the Papal Visit in 2015 World Meeting of Families, and the Super Bowl, among others. Major Tippit has deployed stateside to multiple natural disasters including Hurricanes Katrina, Rita, and Sandy. He serves as chemical, biological, radiological, and nuclear (CBRN) medical advisor to the New Jersey State Surgeon.
Throughout the past 17 years of his military service, Major Tippit has received the U.S. Military's Meritorious Service Medal, U.S. Air Force Commendation Medal, and the U.S. Army Commendation Medal, among others.
Diplomatic
State Department Medical Specialists
Cooper's multi-faceted military and diplomatic programs stem from members of our own medical staff who are nationally recognized for their duty and service, some of whom have received commendations from the U.S. Department of Defense, Department of State, individual service branches, and other institutions and organizations. These highly skilled and accomplished physicians, physician assistants, nurses, trauma technicians, and others have for years, quietly, given tirelessly of themselves in sharing their world-class experience with overseas diplomatic and military missions as well as with a small, specially selected group of students from the most elite branches of the military who come to Camden for classes held here in Camden.
State Department Telehealth Consults
Real-time physician-to-physician clinical consultation
Cooper University Hospital is the only trauma center in the country that provides hands-on training, research, and education and real-time, world-wide, situational, video and phone support and supervision to select members of our nation's diplomatic divisions and elite military units.
Through the program, the U.S. Department of Defense and the U.S. State Department send their elite military personnel to Cooper – prior to deployment – for hands-on training. When critical medical emergencies arise halfway across the world, Cooper's trauma team jumps into action and provides medical teams with real-time guidance via its telemedicine capabilities.
Preparedness
As a regional leader in trauma care and preparedness, Cooper has unique expertise in understanding how to handle complex medical emergencies resulting from car accidents, explosions, gunshot wounds, and other serious accidents. We are often called upon by state and local law enforcement, fire personnel, emergency medical technicians, the military, and government agencies to provide training in handling extreme blood loss in these trauma situations.
Stop the Bleed Training
Cooper's Trauma Department offers "Stop the Bleed" programs designed to train medical and emergency professionals, as well as laymen, on methods and procedures for stopping a serious bleed.
Left uncontrolled, a victim of massive bleeding can die within five to ten minutes, yet anyone at the scene can learn to apply proper bleeding control techniques, using dressings, tourniquets or even their hands, to save a life.
Training for First Responders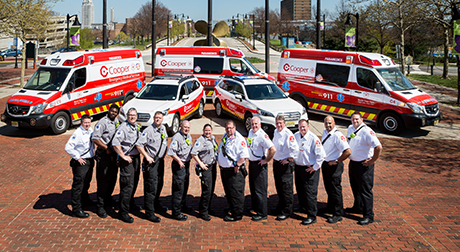 Cooper EMS Outreach offers a Bleeding Control for the Injured (B-Con) course for police, fire, and school personnel as part of its community outreach efforts. The program, part of the national "Stop the Bleed" initiative, aims to put knowledge gained by first responders and the military into the hands of the public to help save lives during times of disaster.
In addition to the Camden County Police Department, Cooper EMS Outreach has provided the hemorrhage-control training to the members of the Camden Fire Department, hundreds of New Jersey State Police and to teachers, security officers, and other personnel in the Camden School District.
If your organization, business, or agency would like to receive more information on the Stop the Bleed initiative through Cooper Trauma Center, please contact Brian Collins, EMS Outreach coordinator, at collins-brian@cooperhealth.edu or visit http://www.cooperhealth.org/services/ems-outreach-and-medical-direction.
Training for the Community
Cooper offers a Bleeding Control for the Injured (B-Con) program, a two-hour course that teaches non-clinical laypersons how to apply tourniquets, pack a wound, and open a victim's airway. Attendees learn how to manage life-threatening bleeding in themselves or another person.
Classes take place every other Wednesday from 4:30 p.m. to 6:30 p.m. at Cooper Medical School of Rowan University, 401 South Broadway in Camden.
For more information about the "Stop the Bleed" initiative, visit http://www.bleedingcontrol.org.
http://blogs.cooperhealth.org/news/2017/02/cooper-trauma-center-provides-10000-for-purchase-of-tourniquets-for-camden-county-police-department-as-part-of-stop-the-bleed-education-and-training/
http://blogs.cooperhealth.org/news/2017/06/cooper-trauma-physician-on-good-day-philadelphia-to-talk-about-stop-the-bleed/
Training for Emergency Scenarios
The Camden County Office of Emergency Management tasked Cooper with the responsibility of facilitating active shooter training for the Camden County Task Force, comprising several fire departments, EMS, and law enforcement. During this training, emergency personnel learn how to respond to a county-wide response to an active shooter or hostile event (ASHE).
In addition, Cooper has worked with the DEA, training officers with mock scenarios to learn what to do when personnel are injured and need to be removed via helicopter. And, we train law enforcement, including the Camden County Sheriff's Department, on how to medically stabilize officers who have been shot in the line of duty.