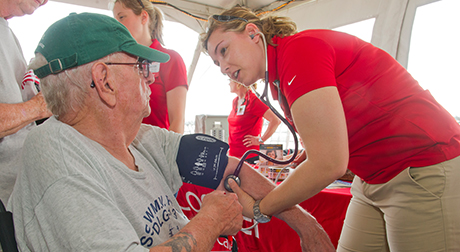 Cooper University Health Care is committed to providing the highest quality of care for those who put their lives on the line for others. Cooper, with its partner organizations, offers several programs dedicated to keeping members of the military, their families, veterans, and first responders healthy.
Veterans VIP Priority Program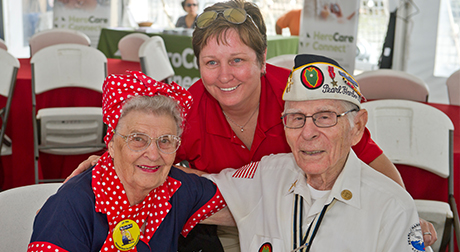 Cooper's Veterans VIP Priority Program ensures that veterans living in the nine southern counties of New Jersey have quick access to primary care services. Through the Veterans VIP Priority Program, veterans in Atlantic, Burlington, Camden, Cape May, Cumberland, Gloucester, Mercer, Ocean, and Salem counties can schedule same-day appointments with Cooper primary care physicians or obtain behavioral health services, if required.
To schedule a same-day primary care appointment, patients must call the dedicated Veterans VIP Priority Program phone number at 866.990.VETS (866.990.8387) and speak with an Access Navigator between before 1 p.m. Monday through Friday. Calls received after 1 p.m. will be scheduled the following business day.
Cooper representatives can also provide assistance and direction on other health and social services, such as housing, employment, and transportation.
No veteran will be turned away due to lack of insurance. Dedicated financial representatives are available to work with each patient on reimbursement from insurance carriers or to identify programs that help pay for health care services.
Those participating in the Veterans VIP Priority Program must bring a valid photo identification and proof of veteran status – VA ID card, military ID card, or DD 214 – to appointments.
For more information or to make a same-day primary care appointment, call 1.866.990.VETS (1.866.990.8387).
HeroCare Connect
A joint venture between Cooper University Health Care and Deborah Heart and Lung Center, HeroCare Connect is a personal, one-stop resource that links military families, active duty and retired military, and veterans with health care services close to home.
The unique initiative provides convenient and expedited access to specialty care for military patients stationed at Joint Base McGuire-Dix-Lakehurst and veterans across South Jersey, supplementing the primary, gynecologic, and pediatric care available on base.
Through the concierge service, patients call an appointment center managed jointly by Cooper and Deborah where the specially trained staff manage cases on an individual basis and connect each patient with specialists within 24 to 48 hours. Staff members also follow up with results and reports, coordinate additional testing and care, and communicate with all medical and military professionals involved with each patient. 
Veterans covered by the Veterans Choice Program (VCP) are eligible to take advantage of the personalized, concierge program when a primary care physician recommends diagnostic testing or a visit with a specialist and cannot secure an appointment in a timely manner or geographically convenient location.
The comprehensive specialty services available as part of HeroCare Connect include:
Ambulatory Surgery
Balance
Bariatrics
Cardiac (diagnostic, interventional, surgical)
Colorectal
Electrophysiology
Endocrinology
Gastroenterology
Hematology
Imaging
Infectious Disease
Nephrology
Neurology
Neuropsychology
OB/GYN
Oncology
Oral and Maxillofacial
Orthopaedics
Otolaryngology
Pain Management
Palliative Care
Pediatrics
Perinatology
Plastic and Reconstructive Surgery
Podiatry
Psychiatry
Pulmonary
Rheumatology
Sleep
Trauma Specialists
Urology
Vascular
Vein Center
Wound Care
To schedule an appointment through HeroCare Connect or determine if you're eligible to participate in the program, call 1.866.9.HERO.CARE (1.866.943.7622). Visit HeroCareConnect.org for more information.
Helping Our Heroes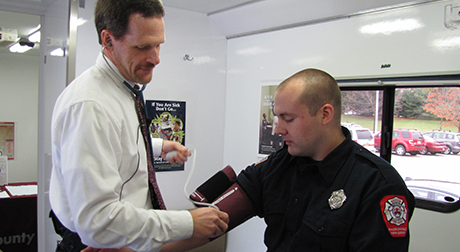 Statistics show that 47 percent of on-duty firefighter deaths are cardiac-related. To fight this alarming statistic and keep local first responders healthy, Cooper University Health Care and the Camden County Board of Freeholders have teamed up to offer Helping Our Heroes, a preventative screening program.
The public-private partnership provides the more than 2,800 emergency responders in Camden County with convenient access to preventative health screenings that help identify potentially life-threatening diseases, such as hypertension. Services part of the comprehensive cardiovascular health exam and risk assessment include physicals, cardiovascular and pulmonary screenings, EKG, blood tests, and urinalysis. Resources on healthy eating, weight management, smoking cessation, educational seminars, and referrals to specialists are also available through the program.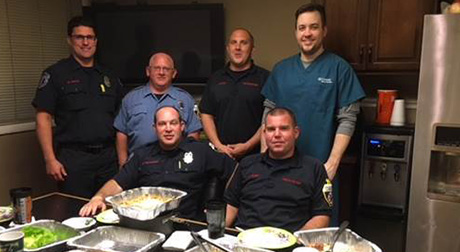 Cooper's Community Health registered nurses, physicians, and phlebotomists administer the voluntary program at sites throughout the county, including local firehouses, EMS stations, and Cooper medical offices. Should the first responder require additional services or treatment, he or she has the option to select the provider and facility of his or her choice.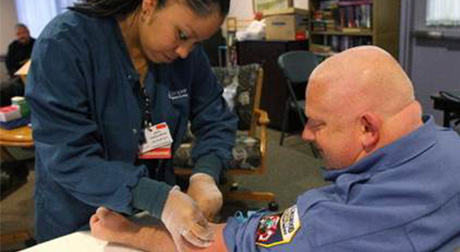 Helping our Heroes is a voluntary program available to all fire agencies and non-profit EMS organizations in Camden County. It is not intended to replace pre-employment or annual physicals required to determine fitness of duty.
Insurance is not required for Helping Our Heroes; however, standard payment and insurance policies do apply. Cooper University Health Care accepts a number of major health care plans, including those found here. Individuals should check with their health plans on details of coverage to avoid incurring out-of-pocket expenses. First responders who wish to pay out of pocket for the assessment can do so for a fee of $375.  
To learn more about Helping Our Heroes or to schedule an appointment, please email Catherine Curley at curley-catherine@cooperhealth.edu or call 800.8.COOPER (800.826.6737).