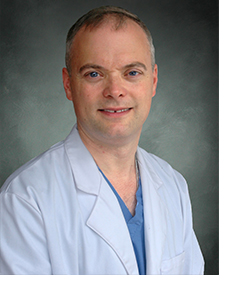 Lt. Col. John Chovanes, DO, FACS, USAR MC, is a Surgeon in the Department of Surgery in the Division of Trauma, Acute Care Surgery, and Surgical Critical Care of Cooper University Hospital in Camden, NJ. Dr. Chovanes has been at Cooper Trauma since 2010 and is the founding Medical Director and Chief Surgeon of Cooper's Section of Military, Diplomatic, and Field Surgical Affairs. This section helps conduct intense clinical trauma training for our Nation's elite commando and diplomatic special operations forces. 
Dr. Chovanes completed a double-fellowship in trauma surgery and surgical critical care at the University of Pennsylvania School of Medicine, Philadelphia, PA. He is a graduate of the Philadelphia College of Osteopathic Medicine where he completed his internship and residency in general surgery and served as Chief Intern and Chief Surgical Resident. Prior to his surgical education, Dr. Chovanes was an EMT, paramedic, and registered nurse with various emergency medical units throughout Pennsylvania and New Jersey. Dr. Chovanes was one of the youngest EMTs in the Commonwealth of Pennsylvania, and one of the original flight paramedics with University MedEvac, the first medical evacuation helicopter servicing Pennsylvania and New Jersey. He is a life member of the Volunteer Medical Service Corps of Narberth and Lower Merion, Pennsylvania.
Dr. Chovanes is a Lieutenant Colonel in the United States Army Reserve Medical Corps. Since joining the reserves in 2001, Dr. Chovanes has completed five tours of duty in support of a variety of U.S. military operations. He served as a military trauma surgeon with the 325th Combat Support Hospital on Contingency Operating Base Speicher in Tikrit, Iraq, in 2007. He has served as both a trauma surgeon and the Deputy Commander of Clinical Services at Forward Operating Base Salerno in Khowst, Afghanistan, in both 2010 and 2012. In 2016, Dr. Chovanes was a trauma surgeon at Camp Manion with the 948th Forward Surgical Team during the Third Battle of Fallujah. Dr. Chovanes has received the Army Commendation Medal for Meritorious Service after successfully removing an unexploded rifle-propelled grenade from a U.S. Soldier. He also received the U.S. Army Soldier's Medal for Heroism after the 2001 World Trade Center attacks for providing field surgical care for a Port Authority of New York and New Jersey police officer trapped in the collapsed basement of the World Trade Center. He was recently awarded a 2017 Veteran of Influence Award by the Philadelphia Business Journal.
Maj. Rory Tippit, MD, PA-C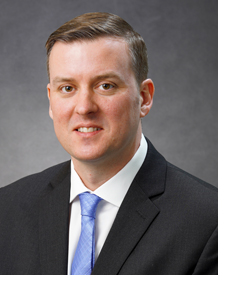 Maj. Rory Tippit, MD, PA-C, is a Physician Assistant in the Trauma Division and Director of Clinical Training in the Section of Military, Diplomatic, and Field Surgical Affairs of the Department of Surgery Cooper University Health Care and a full-time Army Major in the New Jersey Army National Guard. He joined Cooper from the Philadelphia Veterans Affairs Medical Center, Emergency Medicine Division, having served a diverse military veteran population.
Major Tippit started his health care career in 2001 as a U.S. Army Biomedical Technician, EKG Technician, and U.S. Army Medical Sergeant. He is a 2011 graduate of the U.S. Army Flight Surgeon School and the U.S. Military's rigorous Interservice Physician Assistant Program (IPAP) where he completed his Master of Science Degree. In 2012 he attended the University of Science, Arts, and Technology, Physician Assistant to Medical Doctorate program. Since attaining his Medical Doctorate degree in 2016, he has continued to share his expertise in the training of members of the military at Cooper's Level 1 Trauma Center. These training efforts focus on the transference of knowledge and lessons learned between the U.S. Military and civilian Level 1 Trauma Centers. He currently serves as the Director of Military Training, assisting John Chovanes, DO, (Director of Cooper Military Section) to provide clinical oversight and strategic training program guidance for the various military and government trainees at Cooper University Hospital. Major Tippit serves as the National Stop The Bleed Day Coordinator for the State of New Jersey, and the American College of Surgeons Committee on Trauma.
As a full-time Army Major in the New Jersey Army National Guard, Major Tippit currently serves in the 21st Weapons of Mass Destruction-Civil Support Team (WMD-CST) unit located on Joint Base McGuire-Dix-Lakehurst, NJ. In this position he serves as the team physician assistant providing advanced pre-hospital medicine and is on call in the event of a manmade or natural disaster within the United States. During his time on the WMD-CST, Major Tippit has been involved in leading and coordinating medical response to multiple large scale multi-agency events such as the United Nations General Assembly, Democratic National Conference, the Papal Visit in 2015 World Meeting of Families, and the Super Bowl, among others. Major Tippit has deployed stateside to multiple natural disasters including Hurricanes Katrina, Rita, and Sandy. He serves as chemical, biological, radiological, and nuclear (CBRN) medical advisor to the New Jersey State Surgeon.
Throughout the past 17 years of his military service, Major Tippit has received the U.S. Military's Meritorious Service Medal, U.S. Air Force Commendation Medal, and the U.S. Army Commendation Medal, among others.
Capt. Timothy Galvin, MSN, RN, CCRN-K
Capt. Galvin is Director of the Section of Military, Diplomatic and Field Surgical Affairs in the Department of Surgery at Cooper University Health Care. He has served in various health care leadership and management roles in multiple major university hospitals. He has experience as a Director of Nursing and a Lean Six Sigma Black Belt on a dynamic Operational Excellence team prior to his current role. For the past 16 years he has served in various leadership roles in the Delaware Air National Guard.