Human Resources Programs
NJ Salute Coalition
Cooper Health participates in the NJ Salute Coalition, whose mission is to connect veterans, guard, and reserve and their families to New Jersey employers. We are committed to focusing efforts on recruiting and hiring service members and their families who are seeking civilian employment after duty. As part of our recruitment efforts, we work with the Veterans Administration and other organizations to help us connect with those desiring employment.
Veterans possess many of the strengths that Cooper seeks when hiring employees, including the ability to work in teams, organizational and problem-solving skills, and a sense of duty to others.
For more information visit www.us-salute.org
Employee Support for National Guard & Reserve (ESGR)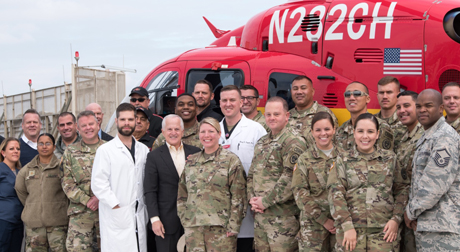 ESGR is a Department of Defense initiative that facilitates and promotes a cooperative culture of employer support for National Guard and Reserve service. The program helps by developing and advocating mutually beneficial initiatives, recognizing outstanding employer support, increasing awareness of applicable laws and policies, resolving potential conflicts between employers and their service members, and acting as the employers' principal advocate within Department of Defense.
Paramount to ESGR's mission is encouraging employment of Guardsmen and Reservists who bring integrity, global perspective, and proven leadership to the civilian workforce.
ESGR comprises community-based volunteer networks of more than 4,500 members who serve on 54 committees, implementing employer support programs within their local communities. As a regional corporate leader, Cooper is an active member of the New Jersey ESGR network. We strive to hire National Guard and Reserve talent – and once hired – provide them and their families with support services to help them before, during and after deployment.