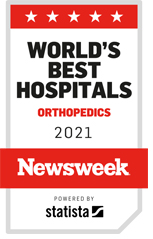 The muscles, bones, joints, and nerves of the hand can work in a wonderful harmony that we rarely notice. Unfortunately, injury and disease can disrupt that harmony and produce pain, deformity, and dysfunction.
At the Hand and Nerve Center at Cooper University Health Care, a multidisciplinary team of specialists in hand and nerve disorders comes together to offer expert, collaborative care. The team at Cooper has the most advanced medical technology and years of training and experience in the field of hand and nerve care. If you have found that a medical condition is causing you excessive pain or decreased mobility in your hand, you should schedule an appointment with a hand specialist to properly diagnose your condition and determine the best approach forward for a full recovery.
Why Choose Cooper for Hand and Nerve Care?
Patients and families in the South Jersey community and beyond choose Cooper for hand and nerve services because of our:
Expertise: Our hand and nerve specialists have experience treating many different hand and upper extremity disorders using a variety of techniques. Our fellowship-trained doctors have received specialized training in the hand's tissues, bones, and structures. This knowledge helps them perform intricate surgeries with effective results.
Innovative treatment options: We offer patients many treatment options, including nonsurgical solutions. When surgery is necessary, Cooper offers many approaches that result in a quicker recovery and reduced pain.
Advanced technology: Our procedure rooms are equipped with advanced technologies that benefit patients during diagnosis and treatment. An image-compatible operating table guides doctors during intricate surgeries. Minimally invasive instruments allow for smaller incisions during surgery with the same effective results.
Team approach: At Cooper, a multidisciplinary team of specialists – including orthopaedic surgeons, plastic surgeons, rheumatologists, physiatrists, and occupational therapists – work together for your benefit. This collaboration ensures you receive the highest level of care.
Comprehensive rehabilitation services: If your doctor recommends surgery, post-surgery rehabilitation may help to increase your hand's strength and function. Cooper's rehabilitation program offers a wide range of physical therapy and occupational therapy options with trained specialists to guide your care. Learn more about our physical therapy and rehabilitation program.
Hand and Nerve Conditions We Treat
Our multidisciplinary team of specialists cares for a wide range of hand and nerve conditions.
We specialize in the treatment of:
Fractures and dislocations
Ganglion cysts
Infections and tumors
Internal fixation
Mallet finger (baseball finger)
Open reduction radial nerve dysfunction
Soft tissue sprains, strains, and contusions
Trigger finger
Hand and Nerve Services
Our team is dedicated to providing expert care for people with hand and nerve pain or related conditions. Depending on your unique circumstances, your doctor may recommend one or more of the following:
Bracing
Closed reduction and fixation
Fasciotomy

Medications
Nerve repairs and/or release
Replantation
Skin grafts or skin flaps
Surgical drainage and/or debridement
How to Diagnose Hand Conditions
The method for diagnosing your hand and nerve condition may vary depending your symptoms, and Cooper offers a varied range of state-of-the-art technology for the most accurate and informative diagnosis.
A musculoskeletal ultrasound (MSK-US) is a highly sophisticated, non-invasive diagnostic tool that can uncover details that will aid in the diagnosis of conditions related to muscles and joints, such as Tennis Elbow and arthritis. Cooper is one of the few hand centers in the region to offer this diagnostic technology.
A nerve-conduction testing and electromyogram (EMG) are tests that are designed to measure nerve damage, which can aid in revealing conditions such as carpal tunnel syndrome.
A magnetic resonance imaging (MRI) is an effective method of diagnosing injuries related to soft tissue and bone, which can include cartilage, tendons and ligaments.
The diagnostic tools listed above are some of the advanced medical technologies that the specialists at Cooper will use to properly diagnose your specific condition. The proper and thorough diagnosis of the condition is instrumental to determining the next steps in your treatment plan.
When to Visit a Hand Specialist
The hand specialists at Cooper have advanced expertise in the diagnosis, treatment and long-term recovery of various hand and nerve conditions. The different associated conditions will vary by severity, and the treatment method the specialist determines will depend on a range of factors. Once you arrive at the Hand and Nerve Center, you will immediately begin the ongoing discussion that will determine the right approach for your specific condition.
While certain conditions may be treated by rest, many other conditions will require a visit with a specialist. You should schedule an appointment with a hand specialist if:
You are not improving with rest alone
You experience pain even at rest
You experience tingling or numbness in your fingers or hand
Your grip is weakened
You have any hinderance on basic motions or physical actions
The exact severity of symptoms may vary, but if you feel that any of the points listed above apply to you, you should schedule an appointment with a specialist for a thorough diagnosis and ongoing discussion.
Contact Us
To learn more about Cooper's hand and nerve services, to schedule an appointment, or to refer a patient, please call 800.8.COOPER (800.826.6737).