The Cooper Learning Center's team comprises dedicated educational and psychological professionals who understand the multi-faceted issues contributing to learning, attention, and behavioral difficulties. Educational staff members are experienced reading teachers, special educators, and English teachers certified and/or trained in programs such as the Wilson Reading Program, Orton-Gillingham, Lindamood Phoneme Sequencing Program, S.P.I.R.E., Preventing Academic Failure, Read Naturally, and Project Read. Consultations with pediatric physicians are conducted as needed from  the Children's Regional Hospital at Cooper.
Richard Selznick, PhD, Director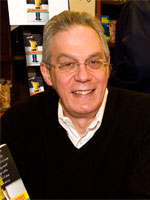 Selznick-r@cooperhealth.edu
Dr. Selznick is a psychologist, nationally certified school psychologist, adjunct graduate school professor, university professor of pediatrics, and school consultant. He is author of the book The Shut-Down Learner: Helping Your Academically Discouraged Child, School Struggles: A Guide to Your Shut-Down Learner's Success, and the recently published Dyslexia Screening: Essential Concepts for Schools & Parents.
As Director of the Cooper Learning Center, Dr. Selznick oversees a program that assesses and treats a broad range of learning and school-based academic and behavioral problems. The Cooper Learning Center, established in 1995 by Dr. Selznick, is a division of the Department of Pediatrics of Cooper University Health Care. It is the leading program in the region, offering a variety of different services, including parent and teacher training, along with its clinical practice.
Dr. Selznick also works as a school consultant and is frequently asked to lecture to parents and teachers on a variety of topics. Throughout the year, Dr. Selznick speaks to numerous parent groups at schools, at regional and national conferences, and internationally.
Pamela Goldberger, BA, WDP, Program Manager
goldberger-pamela@cooperhealth.edu
Pam Goldberger joined the Cooper Learning Center in the summer of 2000. She has 20+ years of experience in education and is a certified Wilson Dyslexia Practitioner. Goldberger oversees school district-contracted remediation and replacement services with the Cooper Learning Center, the Voorhees Learning Therapy Program, and the Camden Summer Outreach Reading Programs. She also helps guide parents with questions/concerns regarding testing, programming, scheduling, school, etc.   
Carmen Borrero, Division Coordinator
borrero-carmen@cooperhealth.edu
Carmen Borrero is the office coordinator of the program. She also helps families with scheduling and billing issues.