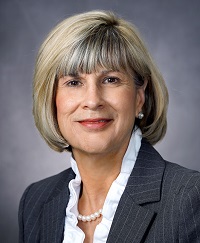 As a registered nurse for thirty-plus years, I have held a variety of clinical and leadership positions in diverse health care settings. I obtained my Doctorate of Nursing Practice from Drexel University in 2017. For the past two years, I have held the position of CNO/SVP at Cooper University Health Care.
As the CNO, I am focused on promoting the health and well-being of communities served related to nursing practice. Key to achieving this priority is a well-defined nursing care model and professional governance structure. In my first year as CNO, I furthered the realignment of nursing's vision statement to support a more current care delivery system with a solid governance framework. Another important initiative at Cooper has been promoting healthy work environments where nurses can flourish professionally and be engaged in driving practice outcomes.
In March 2019, I facilitated Cooper Nursing's participation in the The New Jersey Organization of Nurse Leaders Nursing Workplace Environment Commission (NWESC) pilot program. I am proud to share that NWESC membership and activity at Cooper remains strong. During the COVID-19 pandemic, NWESC provided a venue for nurses to share personal and professional challenges, brainstorm on innovative solutions to those challenges, and share what was working well. Moreover, NWESC continues to serve as our "North Star" in the journey towards Nursing Excellence.
As a member of the Executive Leadership Team, I am privileged to represent professional nursing at Cooper and to ensure practice initiatives are aligned with the health systems strategic plan and overarching goals. 
Kathy Devine, DrNP, NEA-BC
Senior Vice President and Chief Nursing Officer