Revolutionizing Neurological Care
The Cooper Neurological Institute (CNI), a member of Cooper and Inspira Neuroscience, is fully dedicated to the diagnosis and treatment of neurological and neurosurgical issues. The institute offers diagnostic and treatment options for a wide range of conditions, from spinal traumas to strokes to hydrocephalus, as well as comprehensive neuro-oncology and neuromuscular care.
The Most Advanced Stroke Care Possible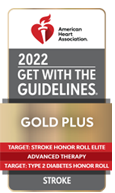 The CNI Stroke Program has received the American Heart Association's Get With The Guidelines® Stroke Gold Plus with Target: Stroke Honor Roll Elite with Advanced Therapy with Target: Type 2 Diabetes Honor Roll. Cooper is committed to ensuring stroke patients receive the most appropriate treatment according to nationally recognized, research-based guidelines, ultimately leading to more lives saved and reduced disability.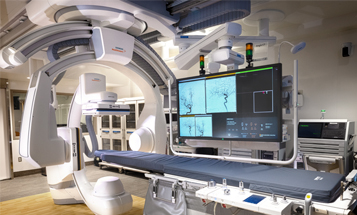 Cooper is transforming neurological care in the region with the opening of a new, dedicated Acute Stroke and Neuro Interventional Suite within its Emergency Department. We are the first comprehensive stroke center in the United States equipped with the latest generation Siemens biplane angiography system with an integrated CT scanner and fully integrated surgical image guidance, allowing minimally invasive intracerebral hemorrhage evacuation procedures. The unit is designed to treat emergent and non-emergent forms of cerebrovascular disease, including acute stroke of any type, cerebral aneurysms, carotid artery disease, and other serious conditions affecting the brain and spinal cord.
Regardless of the type of stroke or neurological condition, patients will be evaluated and treated right where they enter the hospital without the need for time-consuming transfers from the Emergency Department to the CT scanner and from the CT scanner to a procedural suite. Patients will be able to receive intravenous clot-busting medical treatment or an interventional procedure within the unit, avoiding all the additional steps typically associated with conventional evaluation and treatment of neurological disorders, saving brain tissue and leading to better clinical outcomes.
In addition to expert medical care, our Neurological Institute offers you access to supportive services including support groups, integrative medicine and nutritional and psychological counseling. In addition, because CNI specialists are faculty members at Cooper Medical School of Rowan University, you will benefit from access to the latest clinical trials, investigational medications, and advances in surgical and medical technology. With the partnership of Cooper and the world-renowned MD Anderson Cancer Center, our neurological oncology team has access to the latest in treatment options in the state-of-the-art cancer treatment facility at MD Anderson Cancer Center at Cooper.
Multidisciplinary Approach to Care
The CNI takes a team approach to care. Our staff includes experts in the following areas:
Neurology
Neuro Oncology
Neuropsychiatry
Neuro Radiology
Neurosurgery
Orthopaedics (Spine)
Physical Medicine and Rehabilitation
CNI Programs and Specialties
Adult Hydrocephalus and Cognitive Disorders
Balance Problems
Brain Tumor
Cerebral Palsy
Chronic Pain Management
Cognitive Rehabilitation
Dystonia
Epilepsy
Fall Prevention
General Neurosurgery
Headache Center
Hearing: Acoustic Neuroma
Huntington's Disease
Movement Disorders
Muscular Dystrophy
Neuro Oncology
Neuropathology
Neurophysiology
Neuropsychology
Parkinson's Disease
Pituitary and Neuroendocrine
Seizure and Seizure Disorders
Spinal Osteoporosis
Spine Injuries
Spine Rehabilitation
Sports Neurosurgery
Traumatic Brain Injury
Tremors
Trigeminal Neuralgia
The Latest Advances in Neurology
Our neurology experts specialize in the diagnosis and treatment of a broad spectrum of neurological conditions, including diseases of the brain, spinal cord, peripheral nerves and muscles, and movement disorders.
Our board-certified neurologists integrate compassion with cutting-edge technology to deliver expert care for acute and chronic neurological illnesses.
With a high level of clinical excellence, academic achievement and innovative research, our neurologists are at the forefront of neurological care. This level of care is complemented by disease-specific programs and clinics that offer you specialized care and ongoing support for your neurological condition.
Our neurology team specializes in several disease-specific inpatient and outpatient services including the Stroke Program, the Epilepsy Center, the Neurophysiology Laboratory, Neuromuscular Disease Program, Headache Program, and Neuropsychology Laboratory.
Cooper Neurology offers comprehensive, expert care in the following areas: stroke, epilepsy and other seizure disorders, headaches (including migraine), movement disorders (including tremor and Parkinson's disease), multiple sclerosis, neuromuscular disorders such as ALS (Lou Gehrig's disease), brain tumors and brain injury. We treat these conditions with the latest advancements, including epilepsy surgery, vagus nerve stimulation (VNS) therapy, and Botox and occipital injections for headache and spasticity.
Physical Medicine and Rehabilitation
Our Physical Medicine and Rehabilitation (PM&R) physiatrists specialize in improving the quality of their patients' lives by restoring or maximizing function through nonsurgical means. We treat patients of all ages, ranging from pediatric to geriatric.
Major areas of interest include spasticity management, traumatic brain injury, management of chronic pain, as well as stroke and amputee rehabilitation. Our treatments include physical, occupational and speech therapy, Botox for spasticity, joint and trigger point injections, acupuncture, manipulation, medications for chronic neurologic and muscular pain, bracing and artificial limbs, and equipment evaluations. Physical Medicine and Rehabilitation also performs EMG and nerve conduction testing for the diagnosis of nerve and muscle disorders.
Cooper's PM&R team conducts research, publishes scientific papers and book chapters. As a result of our high level of clinical care and academic excellence, several of ourphysicians have received Top Doctor Awards.
Advanced Neurosurgical Operating Suites
The Cooper Neurological Institute offers the latest advancements in Neurosurgery, including two operating rooms with state-of-the-art technology to help improve patient outcomes.
Intraoperative CT
Intraoperative computed tomography (iCT) imaging is available in our operating rooms and can help to establish the best surgical outcomes, especially for patients with brain tumors. Benefits of iCT technology include:
MRI compatibility precautions (ferrous materials, patient implant screening, staff knowledge) are not an issue.
CT offers faster image acquisition and better accuracy for image guidance, and staff knowledge required is the same as intraoperative x-ray.
Previously acquired high-field MRI images can be fused with newly acquired CT for surgical navigation, offering the accuracy of MR images with the updated surgical information offered by an intraoperative CT series.
Operating Room Technologies
Integrated image guidance
Fusion-capable with all imaging modalities
Intraoperative imaging
On-the-fly digital documentation
Multiple video displays with field and scope output
Integrated neuro-endoscopy capable PACs input
Image-guided microscope with full digital documentation features:
Image-compatible OR table
O-ARM
Minimally invasive instrumentation
Neurophysiologic monitoring
The Gamma Knife® Icon™
The Gamma Knife® Icon™ is dedicated to the treatment of patients with brain disorders such as cancers and tumors, vascular abnormalities, functional disorders and ocular disorders. It is actually not a knife at all, but a radiosurgery medical instrument that uses 192 precisely targeted beams of gamma radiation to painlessly treat the specific area with minimal effect on the surrounding healthy tissue.
The Gamma Knife involves no incision, minimal pain, and greatly reduced risk for patients. Patients receive a mild sedative, thus eliminating the side effects and dangers of anesthesia. Both the success and safety of the Gamma Knife are remarkable. With over two decades of documented achievement, no other neurosurgical tool is as impressive.
This simple, painless procedure is safe and effective. You are treated in one session and because the procedure requires no incisions, you can usually return home the same day and resume normal activities after just a few days.
Blue Distinction Center for Spine Surgery

Citing clinical expertise and excellent quality of care, Horizon Blue Cross Blue Shield of New Jersey has named Cooper University Hospital a Blue Distinction® Center for Spine Surgery.
Blue Distinction® is a designation awarded by the Blue Cross and Blue Shield companies to medical facilities that have demonstrated expertise in delivering quality healthcare. The designation is based on rigorous, evidence-based, objective selection criteria established in collaboration with expert physicians' and medical organizations' recommendations. Its goal is to help consumers find quality specialty care on a consistent basis, while enabling and encouraging healthcare professionals to improve the overall quality and delivery of care nationwide.