Inside Jersey's Top Docs 2016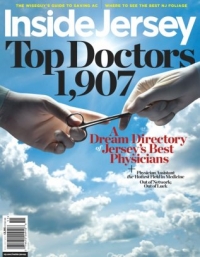 Inside Jersey's listing of Top Doctors is the largest of any New Jersey magazine. Their partnership with Castle Connolly Medical Ltd., the gold standard for medical ratings research, provides consumers with the most authoritative and informed assessment of doctors in the region. Their surveys, by mail and online, are sent to thousand of physicians and other healthcare professionals asking them to identify excellent doctors in every specialty in their region.
Congratulations to the Cooper University Health Care physicians and community physicians who were recognized by Castle Connolly's physician-led research team.
Learn more about each of our "top physicians" by clicking on their profiles below:
Cooper University Physicians - Inside Jersey's Top Docs 2016
Teaching Affiliate Staff / Community Physicians
Cooper Medical Staff / Community Physicians
*Calculations in the introduction for this page are based upon the number of Cooper medical staff members included in the referenced issue on the date of publication and are not necessarily reflected in the listings contained on this page, as only current medical staff members are displayed.